Food
Pillsbury Releases Pink Cinnamon Rolls for All Your Pastel-Hued Food Needs
By
|
I feel like this might be getting a little out of hand at this point, friends. Don't get me wrong, I love a good food craze. Glitter beer? All over it. Unicorn ice cream? Sounds awful but I'll give it a try. Pink cider? Hell yeah. I've got the date marked in my calendar for pickle juice slushes. But maybe, just maybe, there are some foods that don't NEED to be "millennial'd". You know? Like cinnamon rolls, for example. They're pretty perfect as is. Apparently though, Pillsbury saw room for improvement. The food giant announced that they're releasing limited edition pink cinnamon rolls. Unnecessary, but I'd still eat them.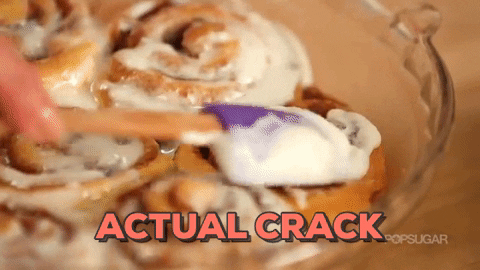 Image: Giphy
Now, it seems like the term pink cinnamon rolls is actually a bit misleading. As far as I can tell, the rolls themselves aren't pink. Just the icing!
The Pillsbury Grands cinnamon rolls with strawberry and cream icing still look like the rolls-in-a-tube we all know and love. The icing appears to have a pinkish hue, which is enough to make them the new pink food, I suppose. The website says they're "bursting with strawberry flavor". Very strong promise, Pillsbury!
So I can't really tell how pink they are. If I'm going to eat pink cinnamon rolls, I want them to be the pinkest cinnamon rolls I've ever seen in my life.
I'm a big fan of easy baked goods, and it doesn't get any easier than popping a tube and placing pre-sliced cinnamon rolls in a dish. If you wanted to make them even pinker, I suppose you could add a bit of food coloring to the frosting? I'm definitely intrigued by the strawberry and cream cheese flavor. Those two things go together well, but paired with cinnamon? I have my doubts.
The special edition cinnamon rolls are only available for a limited time, so if you're curious, make sure to grab a tube before they sell out and are gone forever. My kids would lose their minds over these, so I'll be giving them a try, for sure.
(Image: Pillsbury)