Entertainment
Hoda Kotb Named New Co-Anchor of NBC's 'Today,' Joins Savannah Guthrie
By
|
Today fans can rejoice now that the official new co-anchor has finally been announced. And who better than Today's very own Hoda Kotb!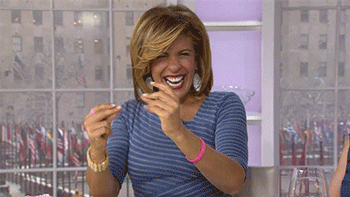 Hoda has been a regular on Today for years and now she will officially be hosting the show alongside Savannah Guthrie every morning, according to NBC. Kotb has been the co-host of the fourth hour of the show with Kathie Lee Gifford since 2008, and she will be continuing in to do so.
"This has to be the most popular decision that NBC News has ever made," Guthrie said after announcing that Hoda Kotb would be joining her behind the desk.
"I am pinching myself," she said. "I think we should send some medics to Alexandria, Virginia, where my mom has likely fainted after hearing the open of that show."
Fans – and NBC News – have recognized that Hoda has a remarkable connection with viewers. She is able to be authentic during touching moments, as well as tragic times. What's more, she is eager to be in her new role and has "hit the ground running," according to NBC News chairman, Andrew Lack.
Savannah and Hoda have been co-anchoring the show since November, after former anchor, Matt Lauer was fired. Lauer was accused of inappropriate sexual behavior by a female colleague and has since taken a leave of absence from public life. And while Hoda says that she didn't fill-in in hopes of landing Lauer's empty position, it is only fitting that she did.
It is rare for a morning news show to be hosted by two female anchors. It doesn't happen very often, but when it does, it is certainly something to celebrate.
Fans sent in their congratulations using #SavannahHodaTODAY on social media, but they weren't the only ones. Kotb's fellow Today colleagues also shared their congratulations.
So happy for my dear friend @hodakotb !! Congratulations on being named the new Co Anchor of @TODAYshow !! Nobody does it better!!

— Kathie Lee Gifford (@KathieLGifford) January 2, 2018
A hearty #congratulations to @hodakotb officially our new @TODAYshow #cohost with @SavannahGuthrie #SavannahHodaTODAY pic.twitter.com/SNNZ2y8Zko

— Al Roker (@alroker) January 2, 2018
Best way to start the year! Congrats @hodakotb https://t.co/gYwh4awRaJ

— Jenna Bush Hager (@JennaBushHager) January 2, 2018
Savannah and Hoda have always had a great chemistry together. They consider themselves sisters and have been through a lot together on the show already. The two are likely to keep Today as one of the biggest morning shows in the country.
What do you think about NBC's choice for a co-anchor? Is there anyone you'd rather see beside Guthrie?
(Image: Facebook/WPXI Trisha Pittman)