Childrearing
So There's a 'Dadbag' for People Who Want a Dadbod Without Putting in the Work
By
|
Is it too soon to start holiday gifts lists? Because if not, we have the perfect addition to one for your best guy. If he wants a dadbod without the work, he will absolutely LOVE The Dadbag. No, we are not joking.
Yes, this is a real thing.
A dadbag is a fanny-pack made to look like a dadbod stomach.
A "dadbod" is sort of the middle ground between fit and beer gut. It's soft and round, slightly paunchy, but generally still considered in shape. Dad's come by their dadbods usually when their partners have babies. Once you have a kid, things like going to the gym and eating well can suffer. And the dadbod is born!
But what about the guy who wants a dadbod, without actually changing his body or habits? We gotchu, guy.
The dadbag works just like a regular fanny-pack, only weirder! Strap it on over your clothes, and enjoy a hint of a dadbod without the commitment. It can hold your wallet, keys, even a beer! But careful, too many of those and you won't need a dadbag.
We're equal parts horrified and tickled by this thing.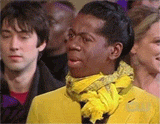 Image: Giphy
The maker of the dadbag is currently shopping around for production partners, so it's not available for purchase just yet. Which is a shame, because we totally want to slide these under a few Christmas trees this year. The jury is out on how well it'll do, but considering this was one of the most popular swimsuits of the season this year, it'll probably be hugely popular.
People are really weird, you guys.
Also read:
(Image: Facebook/Nick Emmons)