anti-choice
Ian Somerhalder Thinks It's Cute That He Threw Away Nikki Reed's BC Pills to Get Her Pregnant
By
|
Nothing like a little news to make your blood boil after a long week, right? Ian Somerhalder and Nikki Reed were guests on the podcast Dr. Berlin's Informed Pregnancy recently, and he told a charming little story about what led to them "deciding" it was time to start a family. According to Ian, the couple were on vacation in Barcelona when he took it upon himself to get Nikki a little more ready for motherhood.
Ian Somerhalder said he threw away his wife's birth control pills because it was "just time".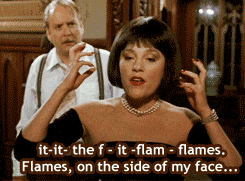 Image: Giphy
Please keep in mind, he told this story in a humorous way. Like he thought this shit was funny. Ian went on to say, "But unbeknownst to poor Nikki, she didn't realize that I was going to go in her purse and take out her birth control." He continued, "By the way, it was the beginning of the pack, so I had to pop all those suckers out. It is a lot of work, especially after a little bit of sangria", and even filmed himself disposing of the pills.
Ian insists he did this without Nikki's permission (makes it worse, asshole!). To add insult to injury, he recorded his wife's freak-out after discovering her birth control was missing.
❤ CLICK THROUGH TO KEEP READING ❤