having a baby
10 Loud And Proud Formula Feeding Celebrity Moms
By
|
Depending on who you hang out with, you may receive some pretty unpleasant judgment once you divulge the shocking fact that you are a formula feeding mom. There are hundreds of reasons to choose to formula feed exclusively or as a supplement, just as there are hundreds of reasons to breastfeed. But the law of parenting physics will tell you that if you make a parenting decision, someone, somewhere is going to judge it.
I personally don't find anything wrong with formula feeding, and I don't think it is my business if a friend decides to breastfeed or formula feed. I chose to breastfeed both of my sons for nine months and seven months, respectively. Part of my reasoning was because it was healthy and FREE. I also secretly hoped that breastfeeding would be the key to my postpartum weight loss, but no such luck.
However you decide to feed your baby, we are all in it together. There are thousands of moms who decide to breastfeed or formula feed exclusively. But as breastfeeding has become more mainstream with the Breast Is Best campaign, formula support is hard to come by.
It helps to know you're in good company with countless other moms and even a few larger-than-life celebrities who were proud about their decision to formula feed:
1. Bethenny Frankel: Reality TV mogul mom supplemented formula with breast milk before introducing solids to her daughter.
2. Beyoncé: Bow down to the great Beyoncé, who breastfed for 10 weeks before using formula.
3. Brooke Shields: Supplemented with formula while breastfeeding and served as the spokeswoman for Bright Beginnings formula in 2007.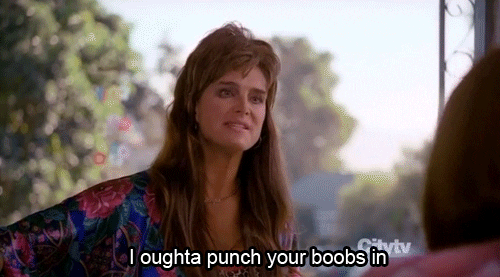 4. Christina Applegate: Double mastectomy breast cancer survivor proudly fed her daughter formula.
5. Giuliana Rancic: Prime candidate for formula feeding as her son was born via surrogate.
6. J Lo: Fed her adorable twin babies formula from birth.
7. Kristin Cavallari: Quit nursing her son at five months to make the formula switch and save time.
8. Molly Sims: Went for formula after finding breastfeeding painful.
9. Rachel Zoe: Fashionista was photographed feeding her son formula at three months.
10. Tamera Mowry-Housley: Happily admits that she stopped breastfeeding at seven months.
(Image:Â Dynamicfoto/Shutterstock)