Stuff
Edible Bubbles Turn Any Drink Into a Kids' Toy (or a Grown-Up Toy)
By
|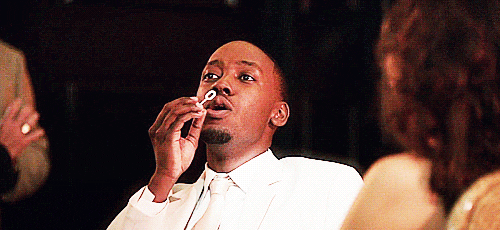 (Via Giphy)
I do not know what it is about bubbles, but they are like small child crack. If you pull them out at the park, you will be surrounded by every toddler except your own. (Your own toddler cares not for the bubbles you brought and will be trying to steal some other kid's car.) Even 10-year-olds will be jumping around and trying to chase and pop the bubbles, as though little bubbles of soap were the greatest thing ever. I am probably just too old to remember how fun they were, because now I do not get it. Or at least, I did not get it until someone figured out how to make bubbles out of wine. Now I get it.
According to The Daily Meal, this idea actually came from a couple small children who innocently asked why bubbles weren't edible. So they and their father came up with an edible bubble formula that can be flavored with any beverage. The kids were probably thinking "apple juice" or "lemonade," but their dad quickly discovered that it works with pretty much anything. Like vodka. You can make bubbles out of vodka now. (Keep vodka bubbles out of reach of children and college students.) Or Champagne.
The product is called BubbleLick, and it costs $12.99 for a six-pack of edible bubble solution. To use it, you just pour a bit of whatever beverage you want into the bottle, shake it up, and blow them all over the place. BubbleLick is not actually meant to be consumed as a drink, but it's a nontoxic solution that means you can fill the air with bubbles that taste like Kool-Aid whenever you want to.
These things seem so tailor-made for parties I am having a hard time imagining a party where they would not immediately improve things. Kid's birthday? Of course you need to let the kids run around trying to suck bubbles out of the air for three hours. College rager? Obviously we need these. Fancy tea with the Dowager Countess? I'm sure Maggie Smith would love an Earl Grey-flavored bubble or two.