Stuff
Vanity Fair's Cringeworthy Margot Robbie Profile Reads Like It Was Written by a Horny Twitter Bot Obsessed with Australia
By
|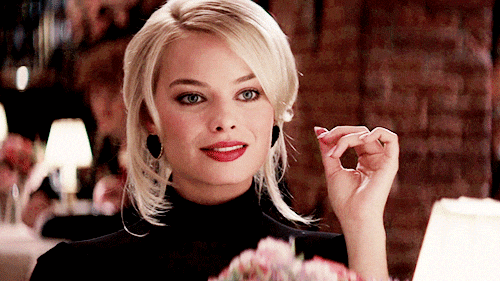 (Via Giphy)
Being a celebrity seems fun. You're rich. You're famous. You have an interesting job. You're probably young, healthy, and beautiful. There's virtually no downside, except that you might occasionally be the subject of a celebrity profile in a magazine, and those can be awful. Vanity Fair just released a new profile of Margot Robbie that is so cringeworthy it's virtually impossible to pick out highlights to mock.
"America is so far gone, we have to go to Australia to find a girl next door. In case you've missed it, her name is Margot Robbie. She is 26 and beautiful, not in that otherworldly, catwalk way but in a minor knock-around key, a blue mood, a slow dance. She is blonde but dark at the roots. She is tall but only with the help of certain shoes. She can be sexy and composed even while naked but only in character. As I said, she is from Australia. To understand her, you should think about what that means. Australia is America 50 years ago, sunny and slow, a throwback, which is why you go there for throwback people."
The opening paragraph is more than 300 words, and while drooling and fawning and literary flexing are not uncommon for a celebrity profile in a glossy magazine, the sudden description of Australia as being "America 50 years ago" is the surprise that lets you know this is not the standard celebrity drool, and this article does not disappoint. How on Earth does he know whether or not Robbie is "sexy and composed even while naked" when she's not acting? What does Australia think about the news that it is like America, but 50 years ago? And what's wrong with a dude who would basically imply that 50 years ago American women were sexy and cool, but now we all suck so we have to import real women from Australia?
Halfway through, I am convinced I am reading a celebrity profile written by a horny AI bot programmed by all the kids who got rejected from creative writing MFA programs this year.
"I met Margot in the restaurant in the Mark hotel, on the Upper East Side of Manhattan. It's a celebrity haunt. You sense them in the shadows, in their booths, tracking you with suspicious eyes. She wandered through the room like a second-semester freshman, finally at ease with the system. She stopped at tables along the way to talk to friends. I don't remember what she was wearing, but it was simple, her hair combed around those painfully blue eyes. We sat in the corner. She looked at me and smiled."
So, she went to a restaurant, presumably because her people told her she had to meet a Vanity Fair writer for a profile, because she is promoting a new movie. Robbie looks pretty spectacular as Harley Quinn in the upcoming Suicide Squad, but the profile is more interested in all her Wolf of Wallstreet sex scenes.
"It was [The Wolf of Wallstreet] that defined her. It put her up with Sharon Stone in Casino and Cathy Moriarty in Raging Bull—one of Scorsese's women."
Then writer Rich Cohen asks her to talk about her nude and sex scenes and her various experiences with onscreen nudity.
"We sat for a moment in silence. She was thinking of something; I was thinking of something else. Then she stood, said good-bye, and went to see a friend across the room. Jerry was right. She looked just like Audrey Hepburn going away."
Kind of a weird way to admit in print that you checked out an interview subject's butt. Do they offer a Pulitzer in squick? Because this is a shoo-in.
The whole article is a chores to get through, but the first paragraph is worth a read, if just so you'll have something to mock on Twitter for the rest of the day. Then go see Suicide Squad, because after sitting for this weird word salad of an interview, Margot Robbie deserves a smashing box office success.