Child Abuse
Hungry 7-Year-Old Found Trying to Sell his Teddy Bear for Food
By
|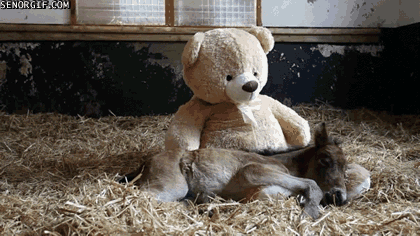 (Via Giphy)
While terrible neighbors of the world are wasting CPS time with stories of kids playing in quiet cul-de-sacs, there are real kids out there who need help and attention, like the 7-year-old boy in Franklin, Ohio, who was discovered this week trying to sell his teddy bear for food.
WLWT News reports that police discovered the 7-year-old because he was standing alone in front of a drug store in a busy neighborhood of town. When a police officer responding to the report asked the little boy what he was doing, he said he was trying to get someone to buy his teddy bear so he could get some food.
"It broke my heart. He told me he was trying to sell his stuffed animal to get money for food because he hadn't eaten in several days," said police officer Steve Dunham.
They were near a Subway, so Dunham took the little boy to get a sandwich, and then he brought him back to the police station to figure out what on Earth was going on. Police discovered the little boy was not an isolated incident. He had four brothers, and the five of them lived at home with their parents in a house that police say was full of garbage, cat urine, and liquor bottles.
All five kids were taken out of their parents house, and WLWT reports that they've been sent to live with relatives for the time being. Their parents have reportedly been charged with 10 counts of child endangering and been ordered not to contact the kids for the time being.