Food
Elf-Themed Sugar Cookie Dough Is Coming To Make Your Holiday Season Magical AF
By
|
Welp, it's still two weeks until Halloween, so you know what that means: time to start getting ready for Christmas! Stop yelling at me, I don't make the rules. But I will admit, as much as I love Halloween, I'm ready for Christmas. The whole season just makes my heart happy. I start planning gifts and decorations and activities months in advance. I may or may not have a folder of screenshots of my perfect Christmas tree for comparison shopping. It's my most favorite time of the year. So when I saw the Elf-themed sugar cookie dough coming out? Well. I got as excited as Buddy when he sees Fake Santa for the first time. This cookie dough will be on regular rotation in my house. Along with repeated viewings of Elf, as is required by Christmas law.
The Elf-themed sugar cookie dough combines two of my favorite things: the movie Elf, and easy cookie-making. Nothing from scratch for me, thanks!
LOOK AT HIS CUTE STUPID HAT ON THE COOKIE. See, I am all about the Pillsbury ready-to-bake cookies. Just take the sheet out, break off the already-formed cookies, put them on a cookie sheet, and you're good to go! No mixing, no measuring. It's Lazy Mom baking at its finest. I always get a few of the holiday shapes and designs, because they're so cute. But these Elf cookies are in a class all by themselves.
The Elf-themed sugar cookie dough will be hitting stores near you for the holidays.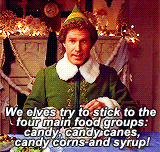 So far, Target has them up on their website, but not for delivery. So that means you'll have start scouring your local stores around the start of November. And obviously buy several packs and freeze them. There's nothing worse than going to get holiday cookies a week before Christmas and there only being, like, bells or some shit left.
I've already got many nights planned in my head that involve Elf-themed sugar cookie dough and Hallmark Christmas movies. Hurry up, Christmas, I'm getting antsy over here.
(Image: Target)