Baby Names
Parents Are Naming Their Kids After the 'Real' Reasons They Had Them and It's Amazing
By
|
Everyone has their own personal reasons for having kids. But if we got really honest about it, I mean REALLY honest, those reasons probably wouldn't make it into the baby book. Parents on Twitter are sharing what their kids' names would be if they were named after the REAL reasons they were born. The honest kids' names are hilarious and too real.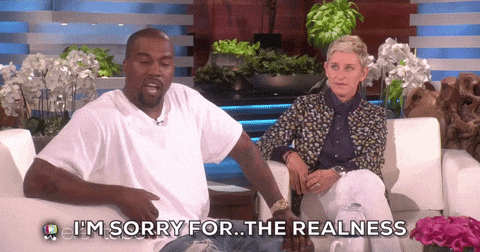 Image: Giphy
Honest kids' names are what your sweet children would be named, if you picked a name based on the real reason they were born. Honest Toddler's Mom tweeted out the idea, and people responded with gusto.
If we named kids after the reason we had them it'd be like, "Hey Marital Problems stop hitting Broken Condom I'm trying to put Hennessy down for a nap."

— Bunmi Laditan (@HonestToddler) November 22, 2017
Can you imagine how many little Broken Condoms would be in your kid's class? They better have middle names so teachers can tell them apart.
Mine would be named "taco truck fight" and "mommy's birthday mimosas"

— Dominique Matti (@mominiquematti) November 22, 2017
"Taco Truck! Stop pulling Mimosa's hair!"
My beautiful girls, 7yo He Bought Me Diamonds, and 5yo Anniversary Champagne

— Elizabeth Estes (@eestes30) November 22, 2017
Honestly though, who could resist diamonds?
A Second Will Keep the First Occupied would play with Let's Be Parents Cause It'll Be Fun!

— Sarah Davies (@francesthoughts) November 22, 2017
Kids are kind of like potato chips, in that you can't have just one.
We just name ours Fresh and Frozen

— Dr Clomoween (@SezClom) November 23, 2017
FRESH AND FROZEN. I cannot.
"Happy First Anniversary, let Efficacy of the Pill is Reduced by the Use of Antibiotics have a turn on the Xbox."

— Good Dog, Blue. ? (@sasimmons) November 22, 2017
Listen, do you want to get rid of your sinus infection, or do you want an oops baby? You have to choose.
"hey, DesperateForaBaby, keep WowThatWasEasierThanIThought away from Surpriseat43"

— Alexandra Rosas (@GDRPempress) November 22, 2017
Sometimes it really is THAT easy.
https://twitter.com/SewSoDef/status/933344540374786048
Sex Education is a good name for kid.