Stuff
In Honor Of National Dessert Day, 5 Desserts For Exhausted Moms
By
|
Did you know that October 14th is National Dessert Day? How will you be celebrating? You probably didn't even know about it, but now you do so you have a reason to eat something delicious. You're welcome.
If you're like me, you have no time for anything right now, but dessert still sounds delicious. Don't be an over-achiever. There are things laying around your house right now that could totally count as dessert. Be creative. Also – don't expect them to knock your socks off. Beggars can't be choosers.
1. Magic Shell
Magic Shell everything. You know the leftover "horror cone" your kid hands you when he's done with it? Admit it moms, I know I'm not the only one that finishes that. You know what makes it less gross? Magic Shell. Voila! You've just turned your kids saliva fest into something you can eat. Yes, I'm disgusting. At this point I'm just praying I'm not the only one.
2. Whipped Cream 
The ultimate in exhausted mom desserts. It takes no effort whatsoever – you just have to open your mouth. I'm just here to make you feel better about yourselves today, ladies. If you say you don't love a shot of whipped cream directly from the canister – you are a big, fat liar. Whipped cream is delicious. If you want to be fancy, put it in a cup and pour some magic shell on it.
3. Sad Creamâ"¢
Maybe some of you are healthy and don't want to just shove random crap into your mouth. Do you have a banana? If so, you can make "ice cream" out of it – or as Eve Vawter likes to refer to it, "sad cream." Just puree a banana and stick it in the freezer. Or follow the real directions, here.
4. Cookie Crumble Delight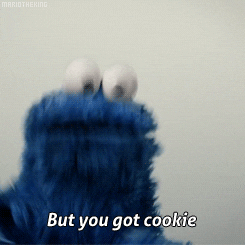 Lay a piece of paper towel on the counter. Take your cookie jar and turn it upside down over it. Take crumbs and dump over ice cream. You're done.
5. Frozen Mini Anything
It's Halloween season. I know you have a bunch of candy laying around the house that you are trying not to eat. Well, grab a few bags for yourself, stick them in the freezer, and give yourself permission to eat one whenever you want. Instant dessert. And they're so small you won't feel too guilty about indulging. Pro-tip: don't keep track of how many you eat.
Bonus Dessert for Over-Achievers: Magnolia's Banana Pudding
Magnolia is an amazing little bakery in NYC that has notoriously long lines and does things like only let you buy a certain amount of banana pudding because they want to save some for the rest of the general public. You're probably wondering how much pudding I've tried to buy now, and the answer to that is – not telling. You can bypass this annoying rule by making it at home. Trust me, the recipe is doable and you will impress all of your friends.