Zsa Zsa Gabor Sure Knows How to Make an Entrance, Even at Her Own Funeral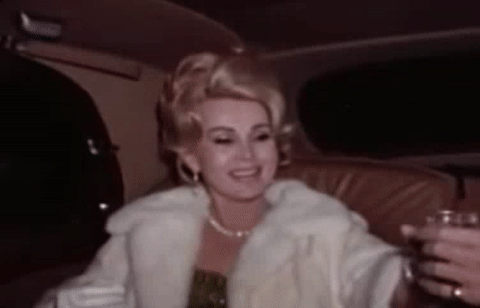 (Giphy)
Zsa Zsa Gabor was famous for being famous long before the Kardashians ever walked the Earth, and Kim & Ko. owe her a huge debt of gratitude. She was one of the greats, though what she was great at is a matter of some speculation. She was an actress who didn't really act, she just showed up and played herself by swanning around sets wearing furs and diamonds and calling everyone "dahlink" just the way she did in real life. She died earlier this month at the alleged age of 99, and yesterday she had the most on-brand funeral imaginable.
She was cremated, and her ashes entered the Beverly Hills church in a Louis Vuitton bag.
The Louis Vuitton bag held her ashes, and mourners paid their respect at a table surrounded by roses and glamour shots of Gabor.
(Twitter/@DavidMercerPA)
Zsa Zsa Gabor was famous for being over the top, and this is the most on-brand exit she could have made. I'm impressed. I dream of being this extra. I'm going to start a Pinterest board called #FuneralGoals, and this will be the first picture on it. (If any of my heirs are reading this: I want my ashes in Chanel, but put a plastic bag down first so you can re-use it later. Being wasteful is tacky.)
I am, however, a bit confused by the choice of bag. Gabor must have had several designer bags to choose from, and if she didn't I am sure Louis Vuitton would have fallen all over themselves to lend a bag for this purpose. But Gabor appears to be going out in a pet carrier. It's a Louis Vuitton pet carrier that costs $2,690, but still … it's a pet carrier.
A Louis Vuitton bag is perfectly on-brand for Gabor, but why is it a pet carrier? Was it a specific request, or did she merely demand to go out in a Louis Vuitton bag, and this one was selected? Maybe it was just the only LV Monogram bag on hand that could accommodate an entire urn full of ashes. Either way, it's weird and over-the-top and something for us all to gossip about, and there's nothing more Zsa Zsa than that.
Gabor was the last of the famous Gabor sisters–including Eva and Magda–to die, and she was the only one who had any children. Gabor had one daughter who died in 2015, but of whose death Gabor was reportedly unaware. Additionally she leaves behind her ninth husband, Frederic Prinz von Anhalt, and–according to the most bonkers factlet on her Wikipiedia page–at least 10 adopted sons who paid the couple up to $2,000,000 apiece to adopt them as adults so they could be legal descendants of Princess Marie-Auguste of Anhalt, whom Frederic Prinz von Anhalt paid to adopt him when he was 36 years old.