being a mom
Working On Thanksgiving Sucks And I'm So Glad I Don't Have To
By
|
When you actually enjoy the holidays, working on one of them totally sucks.
I've worked on Thanksgiving every year for the past decade. I'll be doing it this year too – but it will actually be bearable because unlike years passed, I now work from home and will still be surrounded by the festivities, family and smell of turkey. For the last ten years though – I was a bartender and waitress in NYC. A lot of people go out to eat on Thanksgiving in New York, so it was a very busy time for restaurants.
I look back on my childhood with fond memories of pretty much everything shutting down on holidays like Christmas, Easter and Thanksgiving. The streets would be empty and quiet with a silence you just don't see on regular days. Even New York used to be like this – the bustling Brooklyn streets would slow down. Not anymore. More and more businesses are staying open on holidays to meet the demand of those who still want to be served or shop.
I wrote about what a bummer this was last year. It was  my 10th successive year of serving the general public their turkey. It was wearing on me. Although I loved my employer at the time and the neighborhood in which I worked – there's something about having to leave the house and your family on a holiday that is just – weepy:
I don't know if it is because of tiny kitchens, really expensive groceries, or the general orphan spirit that exists in a city filled with transplants. All I know is that on Thanksgiving day many restaurants are filled with customers. Coming from a suburban area of California, I was shocked when I learned not only would I be working on this holiday – but that it was our busiest day of the year…  I'm sorry about your tiny kitchens, New Yorkers. But don't assume that I don't have anywhere else to be just because my employers are meeting a demand created by you.
When you express an opinion like this it's hard not to be met with some pushback. Obviously I realize there are occupations that don't get a break – ever. Hospital, hotels, airports, police departments, firehouses – certain places just don't "shut down" like the rest. There's just something about a place that doesn't "need" to stay open that does that is kind of a bummer. Is it wrong to wish that people would get a break every once in a while?
People who "can't be bothered to cook" are the reason we have restaurants and you have a job.

How about you pass this around to your customers or ask your boss if you can post on the door so they know how you really feel. Maybe you'll be a little more thankful that you have a job to go to this year. There are a lot of people who would jump at the chance to work on a holiday if it meant having a paycheck.
Right – because all of us workers should keep our heads down, never complain about anything and be happy we have jobs at all. I hate that mentality. Jesus Christ. Everyone is entitled to be disgruntled about having to work instead of being with their families – even us lowly blue collar folk who desperately need our paychecks.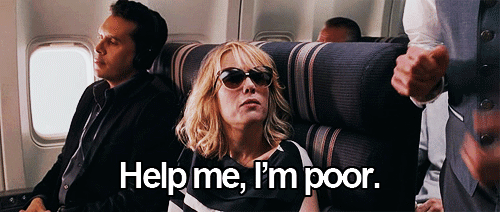 Anyway – back to how much it sucks to work on Thanksgiving. I'm starting to believe that soon – nothing is going to shut down anymore. People still need groceries. People are definitely shopping – we know that for a fact. Walmart is killing Thanksgiving by starting their Black Friday sale on Thanksgiving, to ensure that people are lining up for cheap TV's instead of spending the day with their loved ones. Black Friday sales should be on FRIDAY. Stupid Walmart.
But no matter. We'll just keep consuming shit we don't need on holidays and justifying it by pointing to jobs people need to keep, other occupations that don't get breaks and individual anecdotes about why we shouldn't care about holidays at all. That's the spirit.
It really is fantastic to have ONE DAY when you know all of your friends and family will be available to sit around a table and break bread together. Too bad this idea seems to be vanishing more and more every year. I already envision a future of telling my kids stories about how everything used to be closed! and they'll stare at me and think, no way!
(Image: getty images)