Pregnancy
Woman in Labor Stops to Vote on the Way to the Hospital
By
|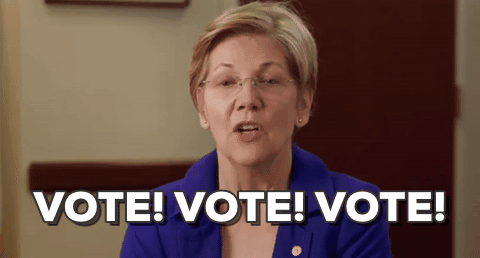 (Via Giphy)
It's almost Election Day, and it is absolutely, 100-percent essential that we all go out and vote. There is nothing, nothing more important than voting! Well, OK, there are some legitimate circumstances that could get in the way of going to vote. Sosha Adelstein, for example, was expecting her first baby on Tuesday. Being in the throes of active labor could make it difficult to cast a vote. Then early Friday she woke up with contractions and realized the baby was coming early. Being in the hospital with a newborn could also make it difficult to vote, so on the way to the hospital Adelstein and her partner, Max Brandel, stopped to vote on the way. 

According to the Denver Post, Adelstein and Brandel dropped off their ballots at the Boulder County Clerk and Recorder's Office first thing Friday morning before they went to the hospital. They dropped off their ballots, signed their ballot envelopes, and were on their way to the hospital again. The election staffers were quite impressed.
"They came in to drop off their ballots and sign the ballot envelopes," Boulder County spokeswoman Mircalla Wozniak said. "The election judge could tell she was in labor."
It's no wonder everyone could tell. Adelstein and Brandel stopped for a photo right after voting, and the photo is on the Daily Camera. That is definitely the face of a woman who knows what a contraction feels like.
Adelstein and Brandel then booked it to the hospital, where Adelstein was expected to deliver a baby girl over the weekend. They said they planned on naming her Bella Rose.
Good for them, and welcome to the world, Bella Rose. Hope we have good news for you on Tuesday!