Vintage Caboodles Are Back, Which Means All of Our Favorites From the '80s and '90s Can Be Yours Again
So, just to recap: the '80s and '90s are doing THE MOST to come back. First, we have the return of the original Polly Pocket toys. Then, classic My Little Pony came back (even the scented ponies!). And now, you can get your hands on your very own vintage Caboodles carry-case. All you need is some LipSmackers, a few scrunchies, and one of those pastel boom boxes to carry around, and you're good to go!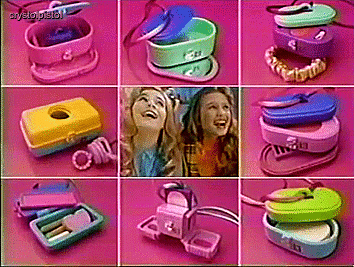 Image: Giphy
You all remember your vintage Caboodles, right? The pastel-colored makeup cases with the drawers that swung out, revealing lots of little compartments in which to store your jelly bracelets and plastic earrings.
Retailer Urban Outfitters is selling vintage Caboodles on their website for just $10. They look just like the originals, right down to the little geometric Caboodles logo on the front. The makeup cases come in lavender, mint, and pink, and honestly you are probably going to need all three. We have way more makeup now.
If you've got a tween, this is PERFECT for them. Every kid needs a place to store their treasures, you know? And at $10, it won't break the bank.
True story: I had two Caboodles when I was a kid. One was for chapsticks and play makeup, jewelry, that kind of thing. The other was for fishing tackle, LOL. I went fishing with my dad a lot, and I didn't want some ugly ol' tackle box. So my mom got me an extra Caboodle and I used to carry it onto the boat when we headed out onto the water. See? SO MANY USES!
[ALSO READ: If You Want to Live a Long Life, Start Drinking!]
The vintage Caboodles are available for preorder on the UO website. According to the site, they're scheduled to ship on March 15. So head over and preorder your Caboodle. Maybe two. You're going to need an extra to store your Polly Pocket and My Little Pony toys.
(Image: Urban Outfitters)