Entertainment
There's a New 'Trolls' Series Coming to Netflix, Because Even Kids Need to Binge Sometimes
By
|
That sound you hear is kids everywhere (and even some parents) squealing in delight over this news! Netflix has announced that the super popular Trolls movie is getting the series treatment. Trolls: The Beat Goes On will feature new voices in the main roles, but we're sure it will be filled with lots of annoyingly catchy songs and catchphrases, just like the movie.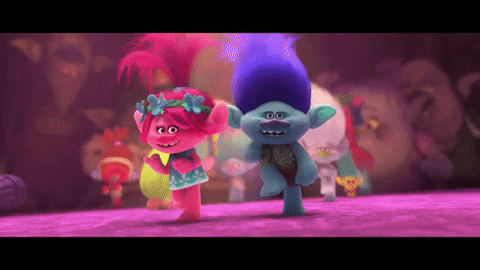 Image: Giphy
The Trolls series will hit Netflix on January 19th. Which is perfect!
Between repeated viewings of the movie itself and the holiday special, I seriously need some fresh Trolls material.
In the movie, the characters of Poppy and Branch were voiced by Anna Kendrick and Justin Timberlake. The stars also sang on the soundtrack (which had some bangers, don't try to deny it). The series will be adding new voices to the line-up. Poppy will be played by Amanda Leighton, and Skylar Astin will take over as Branch. Kids probably won't notice the change, but may recognize Amanda's voice as Blossom from The Powerpuff Girls! And parents, you may remember Skylar from Pitch Perfect, which he co-starred in with the OG Poppy. Full circle!
Meet @SkylarAstin and @MandyPandyLeigh, the voices of Branch and Poppy in DreamWorks Trolls: The Beat Goes On! Stream the episodes on @Netflix January 19! pic.twitter.com/j8nKW10c9V

— DreamWorks Trolls (@Trolls) January 10, 2018
The new series is a collaboration between Netflix and DreamWorks, the studio behind the movie. So you know it's going to be good.
This is one of those kids' movies that I genuinely enjoy. It's funny, it's smart, it has amazing music, and I am entertained by it every single time we watch it (which is A LOT). Aside from Trolls on Netflix, we also have a sequel to the movie to look forward to; Trolls 2 hits theaters on Valentine's Day 2020.
How excited will your kids be for this new series? Ok, be honest: how excited are YOU? If you have to share a TV and Netflix with your small people, you may as well get some enjoyment out of what they're watching, right? Between this and Llama Llama coming to Netflix, things are looking good. Hair up, it's almost hug time!
(Image: Netflix)