Entertainment
'This Is Us' Returns This Week, With Some Answers, But Even More Questions
By
|
Fans of the NBC's hit show This Is Us will be thrilled to know that new episodes start on Tuesday! The show went on winter hiatus at the end of 2017, and left plenty of unanswered questions. But the showrunners promise answers (and even more questions) when the series resumes.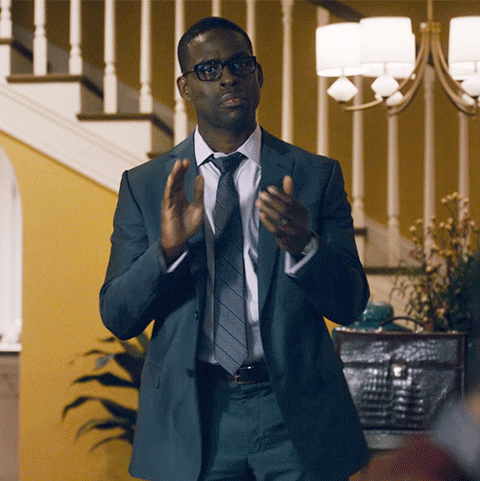 Image: Giphy
When we last left This Is Us, Kate had suffered a miscarriage, and Randall and Beth said goodbye to Deja. Kevin spiraled deeper and deeper into drug and alcohol addiction, and even drove drunk with Randall and Beth's oldest daughter Tess hiding in the back seat.
So what can we expect in the first few new episodes? According to executive producer and co-showrunner Elizabeth Berger and co-showrunner Isaac Aptaker, plenty more drama. And lots more tears. Says Berger, "all of the characters have had crises that they're going through this season and are in their own world because of that."
She adds that she's excited to bring everyone back together: "They hash everything out in a way we haven't seen so far."
The first episode will pick up just a few weeks after the last episode left off. Beth will have to deal with her feelings towards Kevin, after he endangered her daughter. Kevin may be nearing rock-bottom, and the new episodes will see his family come to terms with his addictions. In the winter finale, we were teased with the image of a young boy in foster care, and Berger and Aptaker say his path may cross Randall and Beth's. Says Berger, "If you know Randall, it's safe to say that the adoption passion hasn't been put to bed, so it's definitely still alive."
After suffering a miscarriage last season, happier times are on the horizon for Kate and Toby. Aptaker says that a wedding in the works for this season. Yay!
And we'll be getting closer to learning how Jack died (FINALLY). The showrunners stayed mum on if the big question will be answered this season. But they did say we're getting there. Says Aptaker, "At the beginning of our season we saw our kids grieving in the immediate aftermath of his death with Kate and the dog, Kevin has the broken leg, and Randall had that girlfriend. We've now met the dog, Kevin has broken his leg, and all that's left is for Randall to meet his cute little red-haired high school girl. So there's only one piece left before we are at that time."
Kids are back in school, it's too cold to leave the house, and This Is Us is back. The timing couldn't be more perfect.
(Image: Facebook/This Is Us)