The Kardashians Didn't Invite Blac Chyna to Her Own Baby's Shower, and Rob Kardashian was Furious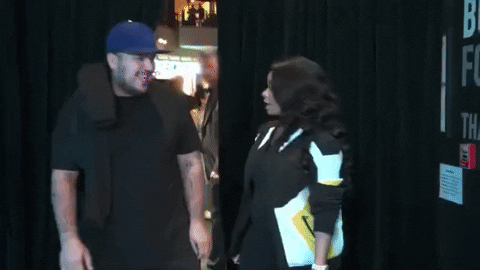 Miss Manners would say it is an etiquette faux pas for a family member to throw a baby shower, but many people would dispute that rule these days (Emily Post says it's OK now). One thing very few people would dispute, however, is that it's pretty darn rude to throw a shower for a baby and then not invite the woman currently gestating that baby, but the Kardashians seem to have done that to Blac Chyna, and Rob Kardashian was pissed.
Blac Chyna is expecting a baby girl with her fiance, Rob Kardashian, and it's a bit of an odd situation because Blac Chyna's ex, Tyga, is currently dating Rob Kardashian's 19-year-old sister, Kylie Jenner. (Blac Chyna and Tyga have a son together.)
According to US Weekly, the Kardashians and Jenners were planning a baby shower for their brother, and Rob hit the ceiling when he found out that Blac Chyna wasn't invited. Last night Rob Kardashian went on Twitter to publicly lambast them for the insult, and also to get revenge in the most inappropriate way possible: By doxxing his own sister and posting Kylie Jenner's phone number to Twitter.
Jezebel reports that Robert Kardashian posted his sister's phone number twice to his 6.6 million Twitter followers, swearing that he had not been hacked and it was really him doing it. The phone number was promptly disconnected and the youngest Jenner got herself a new number, but she probably got a huge barrage of unsolicited calls, texts, and photos when that number went out. Sharing someone's private info on a very public forum is a jerk move, even when your family does something bizarre and shitty like throwing a baby shower without inviting the woman who is having the baby.
The Kardashians have responded to Rob Kardashian's outburst in an extremely uncharacteristic way, and they haven't said a thing. His mother and sisters haven't said a word, and Kylie Jenner's just Tweeting about her lip kits. Even Blac Chyna hasn't said a thing about it, and she's the one who was ostensibly insulted by the lack of an invitation. There's always a chance they've decided to just continue ignoring it to avoid further drama, but it doesn't seem likely.
Baby Kardashian isn't even born yet and is already in the middle of some crazy Reality TV drama. Good luck, baby Kardashian!