Entertainment
Dream Job? UK Sex Toy Company Seeks Toy Reviewer for $36K a Year
By
|
Is the monotony of your 9-5 getting you down? Looking to embark on an exciting new career path? Do you have a particular interest in sex toys? If you answered yes to any of those questions, a UK-based sex toy company may want to hire you. A few months ago, LoveWoo posted a job ad seeking a sex toy reviewer. The ad has since expired or been filled (that's what she said), but it can't hurt to keep an eye out for more openings (that's what she said). The perks sound pretty orgasmic, if you catch our drift.
The ad for sex toy reviewer is pretty straight forward (that's what she said). LoveWoo was looking for someone to test their line of sex toys, lingerie, and games.
The lucky candidate would be able to work from home twice a week. We're assuming that's when testing would happen, because that would make for a super awkward office environment.
In addition to all the free sex toys you could ever possibly need, the job offered some pretty sweet benefits: unlimited holiday, company retreats, private healthcare, and birthdays off! All of this for $36,000US a year. You really can't beat that (that's what she said) with a vibrating sex wand.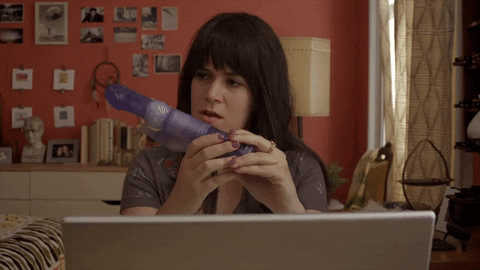 Image: Giphy
Now, lest you think the job only entailed getting off all the time, there are a few more responsibilities.
The candidate would be required to write detailed reviews of the products they try, and sometimes do video reviews (not like, of you using the product, that would take this job into an entirely different industry). The sex toy reviewer would also be required to respond to customer inquiries and answer questions. Still, all in all, it sounds like a pretty exciting career. And think of all the stress you'd relieve just by doing yourself for your job! Setting up a Google alert for future openings immediately.
(Image: Pixabay/joshuatkd)