Entertainment
Rihanna Launches Savage X Fenty, an Inclusive Line of Lingerie
By
|
When Rihanna debuted her makeup line, Fenty, people were blown away by how inclusive it is. People of all skin tones were represented, which is a rarity even in this day and age. Unsurprisingly, the line has done INCREDIBLY well. Because people want makeup to match their skin! Light skin, dark skin, olive skin, doesn't matter. Now, Rihanna has done it again, but with lingerie. Savage X Fenty is the singer's new line of inclusive lingerie. The line includes nudes in all shades, from light to very dark. The sizing is representative of the average woman, and guess what?
The sizes cover the ENTIRE range, from XS-3X. Even better, there's no difference in price based on the size you need. It's lingerie for every woman, and it's about goddamn time.
The Savage X Fenty line includes a wide array of bras, undies, and lingerie. The pieces range in size from 32A-44DD in cup size, and XS-3X. The nude items come in 90 different shades. 90!
Can we just appreciate the diversity of models for Savage X Fenty – all different shapes, sizes and colours??
Rihanna continues her reign as queen pic.twitter.com/nKWAtD6VUu

— Talia Mar? (@TaliaMar) May 11, 2018
Rihanna talked about the line in June issue of Vogue. She says, "Savage is really about taking complete ownership of how you feel and the choices you make. As women, we're looked at as the needy ones, the naggy ones, the ones who are going to be heartbroken in a relationship. Savage is just the reverse. And you know, guys don't like getting the cards flipped on them — ever."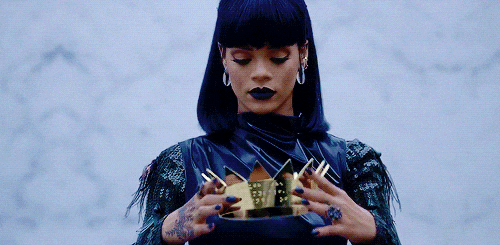 Image: Giphy
Obviously, the internet lost its collective mind when the line dropped. People reported wait times of over an hour, just to get a chance to buy the goods.
Me trying to get onto the Savage X Fenty site pic.twitter.com/vceo1POkBC

— Anisa (@anisaiqbal_) May 11, 2018
When the savage x fenty website says you got 33 more minutes of waiting in line after being paused pic.twitter.com/ytoki7cev7

— ari but spookier ? (@jiminsgothgf) May 11, 2018
Several items are already sold out! That's the thing: when you give the people what they want, they will buy it, every damn time. If you're having trouble getting onto the site, just be patient. I'm sure the hype was anticipated, and everything will be restocked in no time. I've got my eye on a few pieces myself.
(Image: SavageX)