Entertainment
Rihanna Fans Just Realized Why Her Beauty Line Is Called 'Fenty Beauty'
By
|
So I was like… what even IS Fenty (Beauty). Come to find out it's Rihanna's last name and her first name is actually Robyn!

— Chelle ? (@mu_your_mind) September 10, 2017
Someone come revoke this person's fan card, please.
https://twitter.com/ReacoGenuine/status/910856053721530370
Everyday is an opportunity to expand your mind!
I WAS SHOOK NOT KNOWING RIHANNA'S LAST NAME IS "FENTY" WOAHHHH ?

— clare; ? (@_okayclarence) September 21, 2017
Rihanna is fierce enough to only need one name. However, she does have a last name, guys.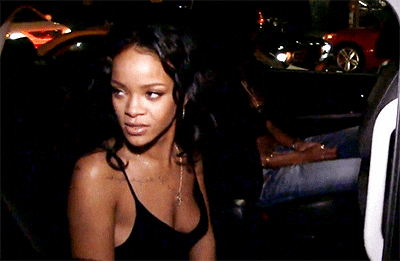 Image: Giphy
Luckily, real fans have stepped up to roast all of those who didn't know Rihanna's full name. Because REAL FANS know this shit.
If you claim to be a Rihanna's fan and You're just finding out that her last name is Fenty then you were never really a Rihanna fan.

— battyboi (@jujuthejina) September 21, 2017
Who didn't know Rihanna's last name is Fenty bitch have some respect for OUR president

— iz (@vuIgaire) September 21, 2017
That's Madam President Fenty to you.
in 2017 y'all are JUST finding out rihanna's last name is fenty and her first name is robyn???? please return your stan cards immediately

— ezra miller's whore (@lipgIosse) September 20, 2017
Please send your stan cards c/o Robyn Fenty, thanks.
Rihanna joins the exclusive club of mega-stars who go by one name, and rightly so. A star of her caliber doesn't need a full name. But if you're a real fan, you have to know her full story. For instance, I was obsessed with Madonna for a good long while, so I know her full name is Madonna Louise Ciccone. If you're gonna stan, do your research! I wonder how many "fans" know their favs full name? Spoiler alert: Pink's parents didn't name her that.
(It's Alecia Moore, FYI.)
Also read:
(Image: Instagram / @fentybeauty)