Food
There's a New Caffeinated Sparkling Water and I Need It Yesterday
By
|
You know that thing, when you find out that the perfect product for you actually exists? And then you sort of lose your mind a little about the possibility of getting it? This is me, right now, after discovering Phocus caffeinated sparkling water. Let me just say that again: CAFFEINATED SPARKLING WATER. Here's the thing: I drink … a disturbing amount of sparkling water. I don't drink soda, and flat water is weird to me. So it's my go-to daily beverage. And I love coffee! But I don't like hot coffee (please don't yell at me). I only like it iced, and making iced coffee everyday, several times a day, is just not something I have the bandwidth for at the moment. So this drink? Is literally made for me. Rejoice!
Phocus caffeinated sparkling water is the best parts of both my worlds: bubbly water and caffeine.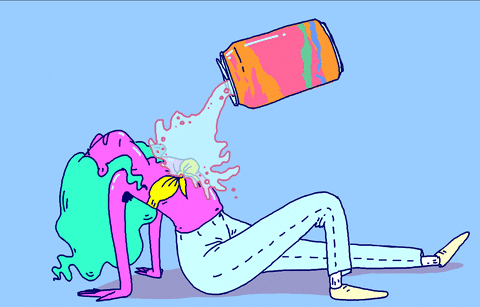 Image: Giphy
I cannot tell you how many times I've slammed a can of La Croix or Bubly (from Target, it's excellent) and wished it did more than quench my thirst. I know there is some hate for La Croix and other brands of sparkling water. I do not understand it nor do I appreciate it, but different strokes and all that. But can people really hate on caffeinated sparkling water??
Phocus caffeinated sparkling water has about as much caffeine per can as a cup of coffee (75mg). It's also vegan and gluten-free, if that's your thing. Plus, it doesn't have any sweeteners or preservatives.
The company uses caffeine extracted from green tea leaves to boost the beverage.  And green tea packs quite the wallop! It comes in five flavors: plain, cucumber, grapefruit, yuzu + lime, and blood orange. And obviously, the cans are cute, because Instagramability is something brands have to consider now. You guys, just IMAGINE the cocktail possibilities.
You can buy Phocus on Amazon, $19.99 for 12 cans. They sell a variety pack, but it's sold out, so you can only buy blood orange, plain, or cucumber at the moment. I seriously need to get my hands on that yuzu + lime, because I have margarita needs. NEEDS.
Mommyish participates in affiliate commission programs, including with Amazon, which means that we receive a share of revenue from purchases you make from the links on this page.
(Image: Instagram/@drinkphocus)