Entertainment
Everyone Knows That Patrick Stewart Is the REAL Sexiest Man Alive, Including Patrick Stewart
By
|
I'm still a little miffed by People Magazine naming Blake Shelton as Sexiest Man Alive. But on the plus side, it's been a nice few days of being reminded how many beautiful and amazing men walk among us. While there were many, MANY obvious errors with this year's selection, leaving off Patrick Stewart might be one of the worst. And Patrick, and everyone else, knows it.
Patrick Stewart has been sexy as hell for DECADES. He was sexy while Blake was still toddling around in diapers. He's CAPTAIN PICARD, for crying out loud!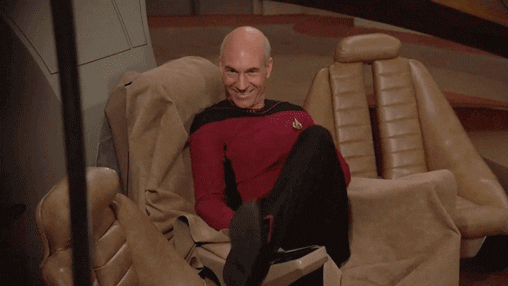 Image: Giphy
After the announcement, a couple of former Sexiest Men Alive (but still damn sexy) took to Twitter to give Blake a little advice. Because they would know!
Hey @blakeshelton … take it from me … humble only gets you so far. Milk the sexy status for ALL it's worth. The reign goes all too quickly. Just ask @VancityReynolds @people

— Hugh Jackman (@RealHughJackman) November 15, 2017
I believe that once this title is bestowed upon a man, they're obligated to change their resume and give this top-billing forever.
You're both just speed bumps on the road to @SirPatStew. Outta the way. https://t.co/yglw2kegAB

— Ryan Reynolds (@VancityReynolds) November 16, 2017
See? Ryan gets it. He knows who the real MVP is. But then, THEN, Patrick chimed in with two tickets to the gun show, and whoops where did everyone's panties go?