Entertainment
Queen Mother Oprah Brings Down Every House in the World With Golden Globes Speech
By
|
The 75th Annual Golden Globes were held on Sunday night, and for once, the glam was overshadowed by some really powerful moments. Almost every single actress (and most actors) wore black as a statement against sexual abuse and harassment and show support for Time's Up. Several actresses brought activists as their companions for the show. Debra Messing called out E! network for gender-based pay disparity, DURING AN INTERVIEW ON E!. Natalie Portman pointed out the exclusion of women in the Best Director category when she said, "And here are the all-male nominees" while presenting the award. But the moment of the night came when Oprah received the Cecil B. DeMille award.
Her speech, and the power in her words, will go down in history.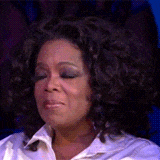 Image: Giphy
Oprah was awarded the Cecil B. DeMille award on Sunday night, for a lifetime achievement in film and television. She was the first black woman in the history of the Golden Globes to be honored with the award.
I really don't want to spoil it for anyone who hasn't watched it yet, but her speech was … let's just say it will go down as one of the best speeches in history. Like, ever. Not just awards shows, but ever anywhere. The power in the moment, of being the first black woman to receive the award, was almost eclipsed by the power of Oprah's words.
The inspirational speech centered on women, and was a call-to-arms for the continued fight against men who abuse their power.
Oprah opened with a story about her childhood: the moment she watched Sidney Poitier accept award for Best Actor in 1964. Sidney was the first black man to be given the award, and she remembered how she felt watching him walk across the stage and stand at that podium. She reflected on the press and the importance of uncovering the truth. But the most inspirational words were for women. She told the story of Recy Taylor, a black woman who was gang-raped by 3 white men in Alabama in 1944, and who found the strength to tell her story and fight for justice.
"What I know for sure is that speaking your truth is the most powerful tool we all have," she said.
"And I'm especially proud [of] and inspired by all the women who have felt strong enough and empowered enough to speak up and share their personal stories. Each of us in this room is celebrated because of the stories that we tell, and this year we became the story. But it's not just a story affecting the entertainment industry. It's one that transcends any culture, geography, race, religion, politics or workplace. So I want tonight to express gratitude to all the women who have endured years of abuse and assault because they, like my mother, had children to feed and bills to pay and dreams to pursue."
The reactions on social media almost as powerful as Oprah's speech. Let's be honest: everyone loves Oprah. If they don't, we don't speak to/of them. And she took that stage, and she took us to church, and we're all still trying to catch our breath.
Let me tell you this room is still vibrating like electricity from that speech. #OPRAH #micdrop #TimesUp #MeToo #GoldenGlobes

— Ava DuVernay (@ava) January 8, 2018
The first Black woman to receive the Cecil B. DeMille Award. "The press is under siege these days. It is the insatiable dedication to uncovering the absolute truth that keeps us from turning a blind eye to corruption and to injustice. ~Oprah #GoldenGlobes

— April (@ReignOfApril) January 8, 2018
OPRAH IS MAKING ME FEEL LIKE A BRAND NEW WOMAN RIGHT NOW #TIMESUP #GoldenGlobe

— EM! (@uhhmmily) January 8, 2018
I haven't heard someone sound that presidential since January 19th, 2017.#GoldenGlobes #TimesUP #Oprah

— Charlotte Clymer?️‍? (@cmclymer) January 8, 2018
Oprah ended her speech with another powerful reminder: "So I want all the girls watching here and now to know that a new day is on the horizon! And when that new day finally dawns, it will be because of a lot of magnificent women, many of whom are right here in this room tonight, and some pretty phenomenal men fighting hard to make sure that they become the leaders who take us to the time when nobody ever has to say 'Me Too' again."
You can watch her full speech above. And then go out and smash the fuck out of the patriarchy.
(Image:Â Image: Facebook / Because of Them We Can)