Food
Nutella Changed It's Recipe and People Are NOT HAPPY
By
|
People really love their Nutella, don't they? The chocolaty hazelnut spread is a favorite among adults and kids all over the world. As a person who doesn't like chocolate (don't @ me), I don't get the appeal. But to each their own! Nutella fans are really up in arms now, after the company that makes the spread make some small changes to the recipe. The Nutella recipe was tweaked ever so slightly, but people don't like change.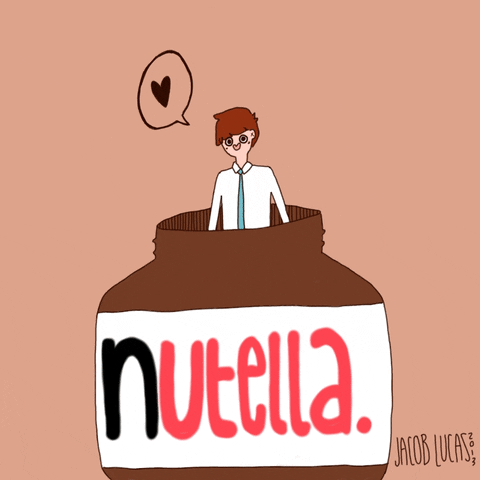 Image: Giphy
The changes to the Nutella recipe are so slight, most consumers probably wouldn't even notice.
According to a report in the Independent, Ferrero added a bit more sugar and powdered skim milk. The sugar content went from 55.9% to 53.6%. The milk content jumped slightly from 7.5% to 8.7%. While the change might not be noticeable to the average palate, the extra milk has changed the color of the rich chocolate spread. Verbraucherzentrale Hamburg, or the Hamburg Consumer Protection Centre, uncovered the Nutella recipe conspiracy on their Facebook page.
Their theory is that Ferrero added more powdered milk and reduced the amount of cocoa used in the product, as a way to cut costs. The color changed from the rich brown everyone is used to, to a slightly lighter, brighter brown.
Everyone is concerned with the amount of sugar in our food, so the addition of more sugar has rubbed a lot of people the wrong way. Honestly though, in a product that boasts 21 grams of sugar per 2 tablespoons, is slightly more even worth losing your shit over?
I'm not exactly sure when Nutella became a health food. I can't even count the number of people who brag about their kids not being allowed candy, but who'll slather this stuff all over toast for their breakfast. LOL ok.
What a #Nutella jar looks like when deconstructed. Should be called fatty sugar spread really. pic.twitter.com/EagPLjMXhc

— Didier Bourguignon (@ddabourguignon) November 7, 2017
I would honestly be surprised if most people will even be able to notice the difference in taste. And again, slightly more sugar and milk doesn't take Nutella from health food to garbage. It was … never good for you.
https://twitter.com/XGemma_ByrneX/status/927804470779670528
As if #Nutella wasn't bad enough yet, there's more milk in it now, more fat, less cacao. & Still palm oil.
Choose a different brand, people!

— Stephanie (@highonmusic1) November 5, 2017
At any rate, if you're a fan of the stuff, and notice it tastes slightly off, there's a reason. Of course, if you really love it, you probably won't even care.
Also read: