Entertainment
Kick Summer Off Right With Netflix in June!
By
|
You guys. School is almost out. Can't you just taste it?! It's mid-May, so I have approximately -1635 fucks left to give about anything to do with school. It's already summer in my mind, and we are just coasting along until it's official. My girls and I have lots of fun stuff planned this summer, but we're also going to have a lot of downtime. Luckily for us, Netflix June 2018 is looking fresh! And yes, my kids will watch a lot of TV this summer. This is me, not giving a hot shit.
Netflix June 2018 has something for everyone! Catch up on everything you missed on Grey's Anatomy, season 14 starts streaming June 16.
Image: Giphy
Sure, you'll sob your face off. But with the kids out of school and asking for snacks 192737 times a day, you're going to be doing a lot of crying anyway.
The second season of the best baking show in the world, Nailed It!, rolls out on June 29.
My girls loooooooove this show. It's so funny, and it will really make you feel like a master baker. Surely you can make a cake that at least looks like … a cake. The contestants on this show cannot.
Netflix June 2018 has plenty of stuff coming for comic book lovers. Season 5 of Marvel's Agents of S.H.I.E.L.D comes through on June 17, and Marvel's Luke Cage season 2 starts June 22.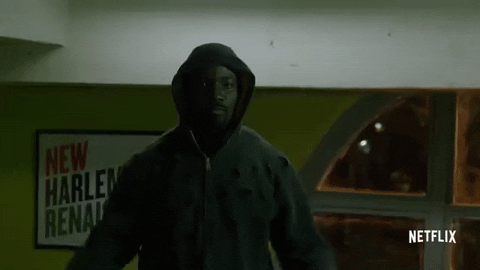 Image: Giphy
Here's everything coming to Netflix June 2018!
June 1:
Assassination Games
Blue Jasmine
Busted! (Season Finale)
Disney's 101 Dalmatians
George Balanchine's The Nutcracker
He Named Me Malala
Joseph Campbell and the Power of Myth
Just Friends
Miracle
National Treasure
Nick and Norah's Infinite Playlist
November 13: Attack on Paris
Outside In
Righteous Kill
Rumor Has It
Singularity
Taking Lives
Terms and Conditions May Apply
The Boy
The Covenant
The Departed
The Prince & Me 4: The Elephant Adventure
June 2:
The King's Speech
June 3:
The Break with Michelle Wolf (Streaming every Sunday)
June 5:
Marvel Studios' Thor: Ragnarok
June 7:
Hyori's Bed & Breakfast: Season 2 (Streaming every Thursday)
The Night Shift: Season 4
June 8:
Alex Strangelove
Ali's Wedding
Marcella: Season 2
Sense8: The Series Finale
The Hollow
The Staircase
Treehouse Detectives
June 9:
Wynonna Earp: Season 2
June 10:
Portlandia: Season 8
June 14:
Cutie and the Boxer
Marlon: Season 1
June 15:
La Hora Final
Lust Stories
Maktub
Set It Up
Step Up 2: The Streets
Sunday's Illness
The Imaginarium of Doctor Parnassus
The Range: Part 5
True: Magical Friends
True: Wonderful Wishes
Voltron: Legendary Defender: Season 6
June 16:
Grey's Anatomy: Season 14
June 17:
Club de Cuervos presenta: La balada de Hugo Sanchez
Marvel's Agents of S.H.I.E.L.D.: Season 5
June 18:
Encerrados
June 19:
Hannah Gadsby: Nanette
June 22:
Brain on Fire
Cooking on High