Pregnancy
Yes, Pregnant Women Should Be Celebrated on Mother's Day
By
|
It's Mother's Day this weekend, in case you've been living in a cave and have managed to miss the signs. Do you have a first-time pregnant wife or partner? Is your best friend or sister knocked up? Are you wondering whether you should honor her on Mother's Day? Let me save you a world of hurt by saying, yes. Yes – if you don't want to piss her off definitely honor her on Mother's Day.
I've heard a lot of people weigh in on this, and many think a pregnant woman isn't a mother yet – but I disagree. I can't think of anything more maternal than spending almost 10 months worrying about everything you put in your mouth and sacrificing wine, sushi, and easy mobility. Pregnancy is all about sacrifice and constantly thinking about the little human you're growing. Whether it's still surreal or whether you're one of those women who bonds with her baby immediately – the minute you decide to nurture the growing person inside you, you become a mother. That may sound sappy, but it's true.
It doesn't have to be a huge spectacle, a simple card or flowers will do. Pregnancy sucks, and you don't even have the cute baby in your arms to make it all worthwhile yet. You're nauseous, you're tired and you're missing your ankles – all in the name of pregnancy. Along comes Mother's Day, and people want to pretend like the holiday doesn't apply to you? Screw them and their visible ankle bones.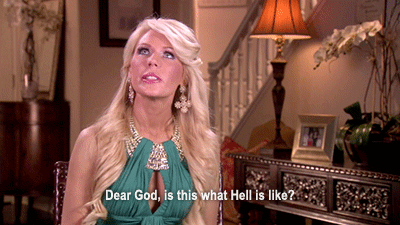 A Mother's Day spent pregnant, anticipating the birth of your first child, is one of those moments in time that will never be repeated. It's nice to acknowledge it. I'm sure Hallmark hasn't missed an opportunity to sell over-priced cards; there's got to be some "mom to be" ones out there if you feel weird buying a Mother's Day card for someone who has yet to go through labor. If you don't want to buy into the commercialism of the holiday, a simple acknowledgment is nice, too. Hey! Happy Mother's Day! It's a simple gesture, why not?
As an aside to fathers-to-be, a survey conducted around the holiday last year found that 60% of pregnant women expected some acknowledgment from their partners on Mother's Day. The same percentage of dads-to-be had no idea of that expectation. I'm tipping you off here – you're welcome.
(Image: Milleflore Images/ Shutterstock; Originally published:Â May 9, 2014)