Stuff
Model Gigi Hadid Deserves a Round of Applause for Elbowing this 'Prankster' in the Face
By
|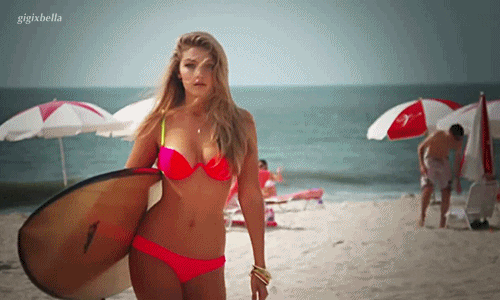 (Via Giphy)
Gigi Hadid is a Victoria's Secret model, Kendall Jenner's BFF, and basically the It Girl of 2016. That means she has all the friends and money in the world, but if I ever meet her I want to buy her a drink, because she just elbowed a guy in the face on the red carpet, and boy, did he ever have it coming.
US Weekly has the video of Hadid leaving the Max Mara fashion show with her sister, model Bella Hadid, when a man named Vitalii Sediuk ran up from behind, grabbed her around the waist and chest, and forcibly scooped her up in the air like she was a baby. Hadid is a grown woman, not a baby, and she was furious and afraid.
"Let go of me! Who the fuck are you!?" Gigi screamed at the assailant while her sister shouted, "Let go of her!" and tried to pry him off. That's when Gigi Hadid–who is an avid boxer–caught Sediuk right in the face with a solid elbow and he dropped her.
"You piece of shit!" she is heard screaming after him as he ran away. It looked like she was going to run after him and deck him again, but a security guard was holding her by the elbow. (The security guard was looking at Sediuk's retreating form like, "Where did that asshole come from!?")
The incident happened in front of all the fashion week photographers and videographers, so it was immediately all over the place, and some of the headlines were predictably awful, referring to Sediuk as "a fan" and making it seem like Hadid was out of line, which she was not.
Alternative headline – GOOD FOR HER: Gigi Hadid Reacts In Totally Appropriate Way When Random Man Tries To Lift Her In The Street pic.twitter.com/WTsbHcNt43

— Rachel McGrath (@RachelMcGrath) September 22, 2016
Gigi Hadid was rightfully pissed at that, and took to Twitter to defend herself for defending herself.
Sediuk doesn't seem like the type to go after people who he thinks will fight back, but he really underestimated Gigi Hadid.
I want to buy Gigi Hadid a drink, because she had every right to defend herself, and Sediuk had that elbow coming, because he does this all the fucking time. At Cannes in 2014 he literally crawled under America Ferrera's dress on the red carpet and shoved his head up her skirt. One of his earliest "stunts" was forcing an unwanted tongue-kiss on Will Smith, then trying to say Smith was homophobic for shoving him away. Back then Sediuk was just called a "Ukranian reporter" because he had not yet established himself as a serial assaulter of celebrities, and poor Will Smith kept having to explain to talk show hosts and reporters why he'd "slapped" a reporter.
Sediuk then went on to shove his face in the crotches of Leonardo DiCaprio and Bradley Cooper. Last year he jumped the rope at a red carpet and literally punched Brad Pitt in the face while he was signing autographs for kids. Why does everybody keep calling this asshole a "prankster"? 
Sediuk keeps getting into red carpets and galas and awards shows, in part because he's not famous enough to be recognizable and he's average-looking enough to blend in with some pretty simple disguises. A hat. A beard. A tuxedo. Random "fashion guy" hipster clothes. Nobody notices this asshole coming until it's too late. These incidents are often reported as the work of "a random man" or "a prankster" or "a fan" until someone recognizes the M.O. and everyone figures out it's Sediuk again.
Assault is not a prank. Gigi Hadid had every right to defend herself, and Sediuk had that elbow coming.