Entertainment
Michelle Duggar Shows Us a Little Leg and Gets Teased for It
By
|
If you're familiar with the Duggars, you know that they take modesty VERY seriously. Their belief system dictates that the women (it's always just the women, isn't it?) keep their hair long, keep their limbs covered, and stay far away from the lustful "male gaze". And that's why a picture shared by Ma Duggar has everyone giggling and scratching their heads. Not because she's posing in a bikini or whatever. People were shocked that they could see Michelle Duggar's legs. And not even her full leg! Nope, just the calf. The sinful, sexy calf.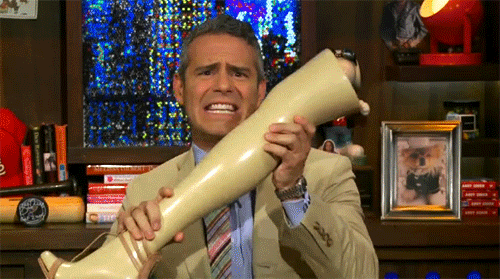 Image: Giphy
Michelle Duggar's legs made an appearance in a picture she shared on the Duggar Facebook page. She and Jim Bob appear to be a beach, and Michelle is dressed modestly.
Ok, first of all: Jim Bob is wearing socks and shoes at the beach. That just doesn't sound comfortable! Michelle is wearing what looks like a regular shirt, and some sort of pants pulled up to her knees. Just your usual beach attire, nbd.
Michelle has spoken before about her views on modesty. In a 2012 blog post, she explained what it means to be modest to her and her family. "This isn't for everyone, and we don't push this on anybody. And we don't judge anyone that doesn't have this perspective, but for us, we felt like we needed to be covered from our neck to below our knees mainly because God talks about the thigh being uncovered, and how that's nakedness and shame." She went on to say that they usually don't visit the beach during the summer, or go to events where there will be swimming because "it's just too hard for the guys to try to keep their eyes averted in those situations."
Ummmm. OK? That seems excessive, but whatever floats your covered boat. Fans on the Facebook page were quick to tease Michelle for her exposed leg.

Image: Facebook / Duggar Family Official
Honestly, it's a little weird. Their interpretation of the bible and what they consider modesty is rather extreme. And they're entitled to believe whatever they want. But this idea that exposing your shoulders or knees is somehow immodest is … odd. First Jill's drama, and now Michelle's legs, the scandals just keep rolling in!
Also read:
(Image: TLC)