Childrearing
McDonald's Is Making Some Big Changes to Their Happy Meals
By
|
So, I sort of see where they're going with this? But I don't like change, LOL. McDonald's Happy Meals are about to undergo a pretty big change, and I imagine it'll piss of a lot of people. Because this kind of stuff always does, right? The fast food announced that cheeseburgers and chocolate milk will no longer be part of the default Happy Meal menu offerings. Starting in June, kids will be able to order 4- or 6-piece chicken nuggets or a hamburger. The beverage choices will be limited to regular milk or juice. Fries will still be a default side, with apple slices or GoGurt being the other choice. The change is part of McD's shift toward healthier menu options for their guests.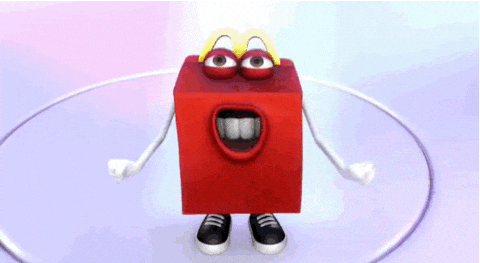 Image: Giphy
McDonald's Happy Meals have been popular with kids and families since they were added to the menu in 1979. Since then, they've undergone quite a few changes.
The most recent were geared at making them a more healthy alternative for kids. The coming announced the changed in a news release last week. The goal is to make every Happy Meal come in at under 600 calories, with 100% of those calories meeting nutrition criteria of added sugar, saturated fat, and sodium. Based on those criteria, cheeseburgers and chocolate milk don't make the cut.
The company is also changing the size of the fries in the Big Kid's Meal, from small to kids' size. Last year, they made the transition to Honest Kids apple juice, which has half the sugar of the juice they were serving before. And later this year, they plan to make bottled water one of the permanent beverage offerings.
But don't worry, cheeseburgers and chocolate will still be available at the customer's request. And the company plans to re-add chocolate milk to the menu again; they're reformulating it so the new version will have less added sugar.
(Image: Facebook/McDonald's)