Marriage
May-December Marriages Might Not Be Satisfying, According to New Study
By
|
We all have our list of things we look for in a potential partner or spouse. Whether it's a sense of humor or having the same values as your paramour, there are qualities that can make or break a relationship. While age can be a factor for some people, a new study suggests May-December marriages may not last as long as marriages where the couple is closer in age. The study also says that people in marriages with larger age gaps may not feel as satisfied.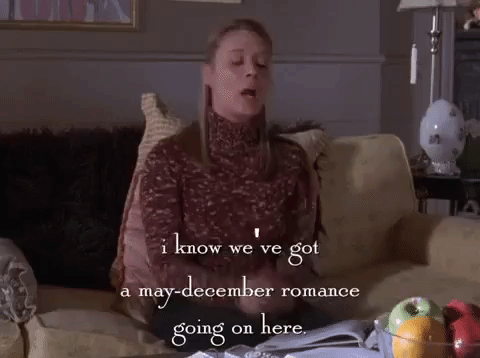 Image: Giphy
The study found that with both men and women, people were more satisfied with a younger spouse. Maybe May-December marriages aren't all they're cracked up to be!
The study was published by the Journal of Population Economics. The author's compiled data from more than 17,000 Australians. Co-author Terra McKinnish said, "We find that men who are married to younger wives are the most satisfied, and men who are married to older wives are the least satisfied. Women are also particularly dissatisfied when they're married to older husbands and particularly satisfied if they're married to younger husbands."
Researchers found that the high level of satisfaction disappeared in marriages that have lasted 6-10 years.
Dr. Wang-Sheng Lee, co-author on the study, believes this has to do with financial vulnerabilities. He says couples with a larger age gap tended to live on a single income, which "could contribute to them being more financially vulnerable if something bad happens." Couples with smaller age gaps experienced higher levels of satisfaction early on in their relationships. However, increased financial vulnerability later in their marriage affected satisfaction in the marriage.
Another possible explanation for the gap is that couples closer together in age tend to have more shared experiences. They also may be at the same stages in their lives.
Dr. Lee says, "We believe that couples who are of a similar age are more likely to talk about plans for the future, because they are at similar phases of their careers and their lives." Common ground is incredibly important. Being on the same page when it comes to your future can make or break a relationship.
Now this isn't to say that May-December marriages are all doomed. Nor does it mean that marrying someone close to your age at all guarantees success. Every relationship is different, and each one fails or succeeds on its own merits. But if sharing a common vision for your future is important to you, then you may want to consider the age of your partner.
Also read:
(Image: Gilmore Girls )