Entertainment
The Live-Action Remake of 'The Lion King' Is Giving Me Life
By
|
Beyoncé. James Earl Jones. Seth Rogan. John Oliver. Alfre Woodard. Donald Glover. I AM HYPERVENTILATING AGAIN.
In the live-action version, Simba will be played by Donald Glover (excellent choice). James Earl Jones reprises his role as Mufasa, the character he voiced in the animated version. Alfre Woodard will play Sarabi, Simba's mother. Chiwetel Ejiofor will play Scar, and holy crap, isn't that perfect? His voice just oozes Scar-ness. Seth Rogan plays the role he was born to play as Pumba, the flatulent warthog. And John Oliver as Zazu is amazing.
But guys. GUYS. The most amazing casting news of all: Beyoncé, Queen mother, woman crush for all time, will be playing Nala. ::faints::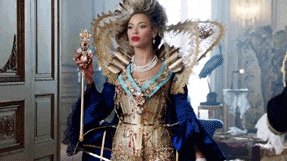 Literally every role is perfect. The cast is PERFECT. No word on if the movie will resemble the super popular Broadway show, or if it'll be more computer-generated imagery. I do not care at all, I will see it either and any way. mark your calendars, the new The Lion King 2019 hits theaters in two years, July 2019. Ahhhhhhhhhhhh!
Also read:
(Image: Disney / The Lion King)