during pregnancy
Kris Jenner May Have Just Confirmed Khloe and Kylie's Pregnancies
By
|
Kris Jenner may have just accidentally/on purpose confirmed Khloe and Kylie's pregnancies. The rumors have been swirling for months that both Khloe and Kylie are expecting babies, but nothing has been confirmed by anyone in the Kardashian/Jenner camp. In a family that literally lives and breathes media attention, that's a bit odd. But now, simple math may have uncovered the mystery! Good ol' math, never let's us down.
In an Instagram post, Kris shows 9 pairs of pajamas gifted to her by Burt's Bees. She thanks the company for providing pajamas for ALL of her grandkids. The thing is, Kris currently has 6 grandkids. That sounds like a confirmation of Khloe and Kylie's pregnancies to us!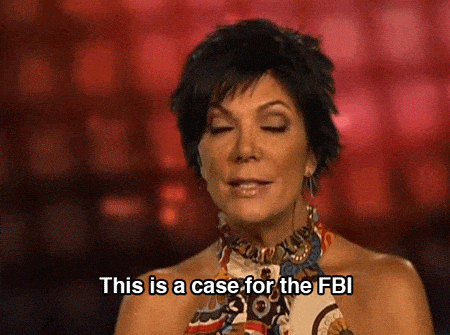 Image: Giphy
Just to recap: Kris is grandma to 6 kids. Mason, Penelope, Reign, North, Saint, and Dream. That's all 6. We know that Kim is expecting her third child via surrogate, a girl. So that makes 7. But there are 9 pairs of pajamas. Hmmmm, we wonder who the other two could be for…
As far as we know, the only members of the Kardashian/Jenner clan who're rumored to be pregnant are Khloe and Kylie. One baby from each, and boom! 9 grandkids. Now, neither Khloe nor Kylie has confirmed their pregnancies, and Kylie clapped back against paparazzi for altering a picture of her so she appeared fuller in the tummy.
Honestly, if Khloe is pregnant, she looks freaking amazing.
Kylie has kept her social media shares to face shots, or pictures of her in baggy clothes. She's either hiding a bump, or trolling us all.
People on Kris' IG were quick to point out the extra sets of pajamas. But it's still a little murky, since you can't really read the tags. There are 3 sets that appear to be for girls (Penelope, North, and Dream). And 3 sets where you can read the tags for the boys (Mason, Reign, and Saint). As to who the other sets belong to? Who the hell knows. Kris is beyond extra, but she is also incredibly good at what she does. So while we doubt the picture and caption were an accident, we have a feeling it's just Kris playing the long game. At some point, if there are babies in those tummies, they have to come out! We're thinking that will be the only confirmation we actually get.
(Image: Instagram / @khloekardashian)