Body Image
Joy-Anna Duggar Posted a Pic of Her Baby Bump and the Comments Are a Hot Mess
By
|
Nothing gets people riled up like some good ol' fashioned Duggar drama, right? (Except for maybe Gosselin drama, people love that shit.) Joy-Anna Duggar, one of many many Duggar kids, posted a picture on Instagram to honor her grandfather for Veteran's Day. What could possibly go wrong with that, you ask? Well, garbage people, that's what. Joy-Anna and her husband Austin are expecting their first child sometime early next year, and according to all the armchair obstetricians on IG, her belly is way too big to not be farther along. The drama being a squeaky-clean Duggar might have had some pre-marital relations, which is a big no-no in that clan. Joy-Anna and Austin married in May and announced the pregnancy in August. Apparently her big baby bump means she's due earlier than they've hinted at.
This is so stupid but so entertaining.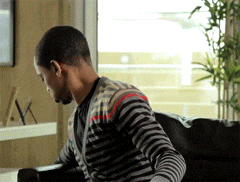 Image: Giphy
Joy-Anna Duggar posted a really sweet picture with her grandfather on Veteran's Day. But it wasn't the grandpa or the thoughtful caption that some people focused on. It was Joy-Anna's baby bump.
So, the story is that Joy-Anna and Austin married in May of this year, and announced the pregnancy in August. So assuming she announced at around 3 months, that would put her due date around February-March. Ish. Of course, if they announced at 3 months, that puts baby-making time right around when they got married. Not unheard of! Those Duggars like to procreate, and see marriage as a means to that end.
But commenters on her IG post are calling shenanigans, based on the size of her belly. It's a Duggar conspiracy!
So her belly is bigger than you think it should be, and she's not doing what her sisters did. Obviously that means she's a liar who's hiding something!
Do people not understand that every woman carries pregnancy differently? It's not one-size fits all.
Aside from the belly bump conspiracy theorists, some commenters just decided to use this opportunity to be assholes. We're not sure what makes it so hard for some people to just keep their opinions to themselves, but it seems to be a losing battle.
Yep, we all know that it's all downhill after the first kid! She's 20 years old, for fucks sake. She's going to bounce back just fine.
Oh hey look! It's every pregnant person's favorite comments! Fuck offffffffffff.
Whenever Joy-Anna and Austin's baby arrives, we hope it's healthy and that mom and baby are good. See, people of the comment sections? It's just not that hard to NOT be an asshole. Try it sometime.
Also read:
(Image: Instagram / @austinandjoyforsyth)