Entertainment
Jill Duggar's Husband Derick Got Fired, So Now They're Begging for Money
By
|
Welp, if you had any sympathy for Jill Duggar's husband Derick after he was fired for being a transphobic bully, maybe this'll cure you of that. In the wake of TLC canning Derick after his tweets about Jazz Jennings, the Dillards have taken to social media. To apologize, you ask? LOL no. They've broken their silence to ask fans for money. Otherwise known as: How to Fail at Social Media Damage Control 101.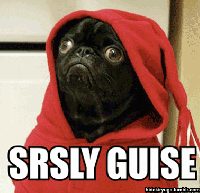 Image: Giphy
Jill Duggar's husband Derick is collecting donations via GoFundMe. He's asking fans to throw some coin his way, to fund various "mission trips" he'll take throughout the year. I mean, he is going to have a lot of time on his hands.
https://www.instagram.com/p/Bbhrf9xFiWs/?hl=en&taken-by=jillmdillard
Fans are like, what the fuck? First he spews some dumb shit on Twitter, gets his ass fired, and now he's asking for money? There's a right way to go about crowdfunding, and there's a really wrong way. Guess which one Derick did. Go ahead, just guess.
Jill Duggar has been mum on the fate of her role on the show or the idiocy that got her husband fired. But she did break her silence to pass his collection plate on IG and Twitter.
Please consider supporting my hubby's GoFundMe campaign: https://t.co/rTfS5pQnXX

— Jill (Duggar)Dillard (@jillmdillard) November 15, 2017
I just … I have so many questions. Jill and Derick have been on TV for a long time. Where's that TV money, guys? 10k surely is a drop in the bucket compared to what they've earned by letting cameras into their homes and lives. And if, for whatever reason, they're strapped for cash, aren't Jill's parents pretty flush? I mean, they've been on TV for fucking ever. Plus they've got all kinds of other money-making ventures, like cell towers on their property that they rent out to carriers. Surely, SURELY, Jim Bob and Michelle can extend a little family loan to one of their kids, especially for such a righteous cause.
People on Twitter were like, nah.
I will! Probably! Right after you explain why a man with a wife and 2 kids gets to beg other hardworking people (who don't attack trans kids) for money & play-act his college days over again instead of getting a Big Boy job to pay his OWN costs!

— gatorgirl (@gatr_girl) November 15, 2017
Huge Duggar fan and fellow believer, but genuinely curious why he can't get a job and save the $$ needed for this if he genuinely feels called to it? Our fam of 6 wants to go on a mission trip but have to save the money first.

— Meg (@Watwood6pack) November 15, 2017
Jill honey, i love you girls and your families. Most do. But i dont think this is a good idea. A)too soon. B) you kids have $$ the show pays you. Use that. C) If thats not an option do what my family does, we save until we can afford what it is we want to do

— Mare Osbeck-Price (@janeOprice) November 15, 2017
Plenty of people wanted to know why Jill Duggar's husband Derick just doesn't get himself a real job, too. The Duggars seem like pull-yourself-up-by-the-bootstraps kinda people. So start pulling, son.
Why doesn't he a real job?!

— poppysowner (@poppysowner) November 15, 2017
I'd be embarrassed to be married to a man-child who refuses to work and support his family while forcing his wife to beg for money. I am just embarrassed for you. It is his responsibility to be a husband, dad, and work to support you guys not vacation using money begged for!

— Allyson Bossie (@AllysonBBossie) November 15, 2017
This isn't even the first time the Dillards have found themselves in hot water for begging for money. While they were on their "missionary trip" in Central America, they created a GoFundMe to ask fans to donate to their cause. They claimed the donations would help them stay in Central America long-term, and continue their work. But after a month in the country, they hightailed it back to the States for a month-long "hiatus". The couple ended up refunding donations after fans called bullshit.
Isn't there something in the bible about learning your lesson the first time around? Poor show, Jill and Derick.
Also read:
(Image: Facebook / Jill Dillard)