Stuff
Janet Jackson Announces Pregnancy With Awesome People Shoot
By
|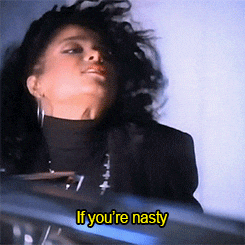 Janet Jackson is 50 years old, which I learned today because she announced through People that she is expecting a baby. I did have to Google it, though, because at 50 years old, Janet Jackson looks younger than most 30 year olds that I know. (Apparently richness and badassery keep you looking young forever.)
Back in April Jackson announced that she was taking time off from touring to concentrate on planning a family with her husband, ridiculously good-looking Qatari billionaire Wissam Al Mana. Seriously, that baby is going to have some extremely beautiful genes. I imagine the birth will be like the scene from Pulp Fiction where they finally open Marcellus Wallace's briefcase and just gold light spills out.
Jackson's been rumored to be pregnant since she made the announcement back in April, but today she confirmed it through People, along with a photo of herself looking very pregnant in a form-fitting white knit dress with a cozy sweater that looks like something Martha Stewart would enjoy. She finished the "cool mom" look with braids, librarian glasses, and a seriously great gold metallic manicure.
"We thank God for our blessing," she said in a statement.
Jackson and Al Mana married back in 2012, and they're a relatively private couple, as celebrities go. Still, one can't help but hope for at least a few super cute Jackson baby photos in the next couple months.