Entertainment
Comedian Iliza Shlesinger Sued by Man Who Claims to Be a Victim of Her 'War on Men'
By
|
Ladies, get your Calgon ready to take you away on a wave of men's tears. Comedian Iliza Shlesinger is being sued by a Los Angeles man, who claims to be a victim of her "War on Men". George St. George, 21, filed the suit after he claims he was turned away from Iliza's show, "Girls Night In with Iliza – No Boys Allowed", despite having tickets to the event. Why he would buy a ticket to a show called "Girls Night In" is a mystery, but I digress. St. George's 14-page suit compares his plight to the Civil Rights movement. And it goes downhill from there.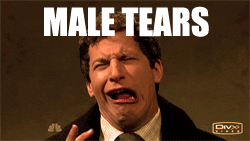 Image: Giphy
The suit against Iliza Shlesinger opens with a quote from George Orwell's Animal Farm: "All animals are equal, but some animals are more equal than others."
St. George claims that he and a friend purchased tickets to see Iliza perform on November 13 in L.A. When they arrived at the theater, they allegedly told they would have to sit in the back "because of their sex". He and his friend left briefly to get some food, and when they returned, were then told they would not be allowed in. They were offered refunds for their tickets.
In the suit, St. George claims he was turned away because of his gender. He says it is "akin to the Montgomery City Lines bus company in Montgomery, Alabama circa 1955." Buddy. Come the fuck on.
He added that the show "repudiated hundreds of years of women's struggles to be viewed as being equal to men and is typical of old-fashioned sexism that might also advise a young woman that her best chance for a happy life is to ace her home economics class and learn how to make a queso dip from Velveeta to catch a good man." It should be noted that the lawyer representing St. George is no stranger to "reverse sexism" lawsuits. In 2004, Alfred Rava filed a class action suit against the Oakland A's for, GET THIS, giving away plaid hats to women ON MOTHER'S DAY.
UTA and Largo at the Coronet, where the show was held, were also named as defendants in the lawsuit. None have commented on the litigation. Iliza recently returned from overseas, where she performed for troops as part of a USO tour. And drank male tears for breakfast.
Also read:Â Meghan Markle's Half-Sister Cashes In Early on Her 15 Minutes of Fame
(Image: Facebook/Iliza Shlesinger)