activities
Taking a Hot Bath Burns as Many Calories as a 30-Minute Walk
By
|
Exercise is important, obviously. But so is self-care! When you only have time for one or the other, the choice can be difficult. I mean, not for me, I don't ever choose exercise. But for some people! If you want to get your cardio in for the day and burn some calories, a 30-minute walk can work. Or, and bear with me here, you could take a bath. It sounds crazy, but according to a new study, hot baths burn calories. As many calories as you'd burn on a 30-minute walk, in fact. So really, the choice is simple.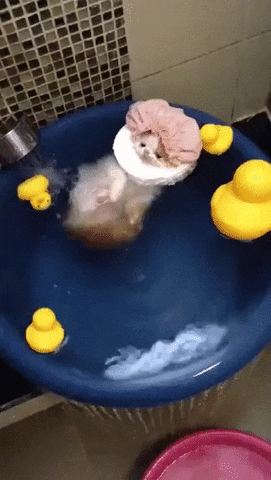 Image: Giphy
A new study says that hot baths burn calories. So honestly, why would anyone do anything else?
Researchers at Loughborough University in the UK claim that lying in a hot bath can burn as many calories as taking a 30-minute walk. They tested 14 men in the study. The men were sent on a one-hour bike ride, and then laid in a bath for an hour. The temperature of the bath was 104F, which is pretty hot.
The cycling did burn more calories than the bath. But, as it turns out, the bath burned about 130 calories. Which is around what you burn on a 30-minute walk.
The reason for the calorie burn? The increase in body temperature! Also of interest during the study: the men's peak blood sugar was about 10% lower during the bath than it was on the bike ride. Researchers suggest that the "passive heating" during a bath can help reduce inflammation. Passive heating is actually used as a medical treatment in Finland (they have all the best stuff, dammit). Even the JAMA Internal Medicine Journal says sitting in a sauna can help keep you heart-healthy. Sold!
So the next time you want to do something for your health, reach past those running shoes and grab your robe instead. A hot bath is way more relaxing than actually leaving your house, don't you think?
(Image: iStock / RossHelen)