Stuff
The Wine Glass that Plugs Straight Into the Bottle Is the Perfect Gift for 2016
By
|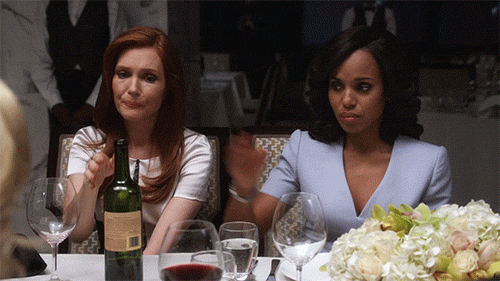 (Via Giphy)
If you are having a shit day, either because you're sleep-training a teething toddler, or some rude assholes left you a sexist note instead of a tip, or because you turned on the news and realized that everyone in the world is being inexplicably shitty right now, you might be tempted to open a bottle of wine and pour yourself a nice glass. Have I got the perfect wine glass for 2016: The Guzzle Buddy.
(Related:Â Mommyish's Guide To The Best Wines To Go With Your Toddler's Meltdowns)
[youtube="https://www.youtube.com/watch?v=bo6HCFuuHRg"]
This wine glass really does plug right into the bottle of wine, so you can get right to drinking, without having to waste time pouring your wine into a glass, like a sucker.
If you're really classy, or if you're planning a big celebration sometime in November, the Guzzle Buddy theoretically works with Champagne bottles too, but be careful with that, because you could wind up with a face full of foam and no Champagne in your mouth, which would be a tragedy.
[youtube="https://www.youtube.com/watch?v=noVx38vF8LY"]
The Guzzle Buddy started as a joke on CougarTown, but a good idea is a good idea, so now it's real and can be purchased from Amazon for $14.95. Sure, it's marketed as a "gag gift," but, y'know …