Entertainment
Golden Girls Hot Sauce Is a Thing That Exists and I Need It Immediately
By
|
Everyone has that one person in their life: the Impossible to Shop For Friend. They like everything! Or they like nothing! But you know? Everyone, and I mean every single person, likes The Golden Girls. And who doesn't love hot sauce?? So I present to you, the most perfect gift in existence: Golden Girls hot sauce. I'm not sure how to adequately convey how very much I want this in my life.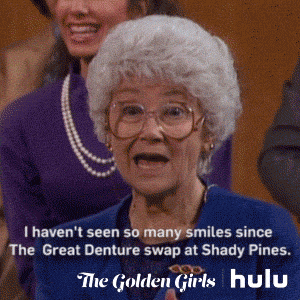 Image: Giphy
The Golden Girls hot sauce set comes with four different sauces, one for each of our favorite ladies.
There's Bea Spicy, in honor of Dorothy Zbornak. Dorothy always brought the sarcasm, only to be out-witted by her tiny Sicilian mother.
I always fancied myself a Blanche, but if I'm being honest, my personality definitely skews more Dorothy. I can never pass up the opportunity to make someone look like a total ass (when they deserve it, of course).
Desert Rose, for our sweet, naive Rose Nylund.
I feel like an alternative name for this particular hot sauce could have been "Shut Up, Rose". The St. Olafian would absolutely use this to punch up the various odd foods she foisted on her roommates over the years.
My favorite of the set, Hot Slut, in honor of randy Blanche Devereaux.
The one that named itself, obviously. I wouldn't call Blanche a slut. She was a strong, independent woman who knew what she wanted and went after it, no apologies. Sophia would absolutely call her a slut, though. And did! Many times!
Which brings us to our final saucy lady, Sicilian Fire, for the tiny spitfire from Sicily, Sophia Petrillo.
Ohhhhh, Sophia. Tiny. Gray-haired. Always with that wicker handbag. But man, when she spit fire on someone, you felt it in your bones.
The sauces can be purchased from Always Fits for $32. The website says that Sicilian Fire and Hot Slut are HOT (obviously). So if you like things a bit milder, stick to the Desert Rose or Bea Spicy. And if anyone wants to send these to me, I like surprises.
(Image: Always Fits)