Stuff
Mommyish Gift Guide: 6 Big Gift Ideas For The Stressed Out Working Mom
By
|
Everyone's time is limited (still only 24 hours in a day, right? Â Damn, I keep lobbying to change that), but working moms feel the demands of their families, their kids and their bosses all year long. Â That makes us hella stressed out during the most wonderful time of the year. Â The truth is we need help, even when we say we don't need it or don't have time for it. Â And no matter what we say, we don't want anything that has to do with helping us organize our time, or for the kids, or help us plan meals (unless cooking is a passion and not a necessity). Â So I'm here to give you some gift ideas for that burned out working mom you know.
1. Â Weekend Yoga Retreat
Of course she'll say she doesn't have time for something so extravagant, but a weekend to stretch, twist and de-stress on a beach or at a spa? Â She might go kicking and screaming but she'll come back glowing and om-ing.
2. Â To-Do List Completion
If your stressed out working mom friend is anything like me, she's a multi-tasker and a control freak that loves a to-do list. Â But then having to actually do them is a different story. Get her to write up a list of five things she's been putting off or dreading and do them for her. Â Oh my lord, just the thought of this makes my shoulders relax.
3. Â  Nespresso Machine
If you know she actually doesn't want any help relaxing or delegating, you might as well enable her with as much caffeine as possible. Â Since they don't yet make a coffee maker with an IV attachment, splurge on this Nespresso machine with a milk frother. Â She'll have endless energy to get through the holidays.
4. Â Lean-In
Now that the hoopla has died down, this might be the right book for your over-stressed working mom friend/wife/child. Â It might just give her the inspiration to keep pressing on and remind her why she works so hard every day.
5. Â The Anti-Lean In
Or maybe she just wants some empathy that she's trying to do too much, fight too many battles. Â Even if she's not on the verge of a complete breakdown, there's a ton of insight to be found from cover to cover.
6. Â A Dead Horrible Boss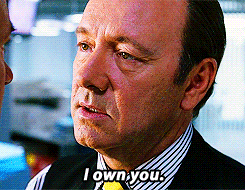 We've all had a boss like Kevin Spacey of Horrible Bosses — who expects you to work harder even though you're already giving 110%, who takes credit for your work product, and rubs his perks in your face while you toil away. Â It's no wonder Jason Bateman wanted him dead. Â If your working mom has one of those, consider hiring the men of the movie to do her dirty work.
* Editorial note: Mommyish does not recommend you hire anyone to kill anyone's boss. Â But my boss made me write that.