Entertainment
'Frozen 2' Co-Director on Gay Elsa: 'We'll See Where We Go'
By
|
You didn't actually believe we were done with Frozen, did you? Frozen 2Â is due to hit theaters in November 2019, and it's been the talk of the Disney town for months. But maybe not for the reasons you think. A petition was circulated to make Elsa a lesbian in the sequel to the smash hit. And now, the co-director has responded to what fans of the film want.
Frozen 2Â will feature the same characters we fell in love with from the first film. And the entire cast, including Kristen Bell and Idina Menzel, are signed on to return.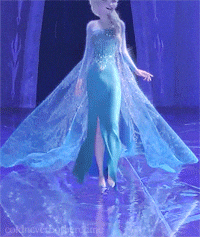 Image: Giphy
But fans have been asking for more than just funny dialogue and catchy tunes. When the first film came out in 2013, people noticed something a little … different about Elsa. She wasn't your typical Disney princess, by any stretch of the imagination. And while the first movie focused on Anna and her love life, fans want to see Elsa fall in love in the sequel. With a woman, to be exact.
Elsa needs a love interest, and how cool would it be if her love was a woman? Disney has featured gay characters in other films (Le Fou on Beauty and the Beast, for example). To be quite honest, Elsa as a lesbian is pretty damn perfect. Like any man would be able to keep up with her?
Idina Menzel, who voices Elsa, has expressed her support for the idea in the past. And now, co-director Jennifer Lee has responded. Jennifer told the Huffington Post, "Elsa's every day telling me where she needs to go, and she'll continue to tell us. I always write from character-out, and where Elsa is and what Elsa's doing in her life, she's telling me every day. We'll see where we go." Sounds like Elsa could end up with a lady love after all!
Wherever the plot line goes, one thing is certain: Frozen 2 is going to be huge. And we'll all be in old-age homes before the songs ever get out of our heads.
(Image: Disney / Frozen)