Stuff
Crowdsourcing: What Is Your Best Advice for Traveling with a Baby or Small Child?
By
|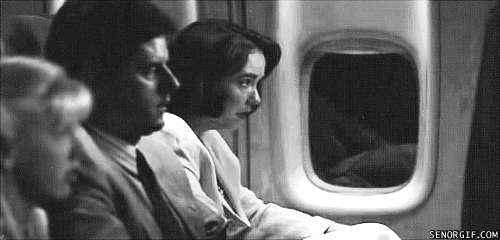 (Via Giphy)
Contrary to what the scolds of the world think, sometimes it is necessary to travel on a plane with a baby or toddler. I'm going to be in that enviable position next week, because I have to take a 9-hour flight from Germany to Chicago with a 23-month-old toddler. By myself. I don't think I've ever been as nervous about anything in my life.
I've made this trip twice before. The first time was a piece of cake. I was flying with my husband and the flight coincided with my 10-month-old's bedtime, and she slept in her car seat or my lap practically the entire way to the U.S. I even got to watch a couple movies, which was pretty great because I hadn't seen a movie in nearly a year.
The second time was less of a cakewalk. On the return leg of that trip, the baby refused to sleep, desperately wanted to get out and walk up and down the aisles–even though she couldn't really walk–and was a colossal fusspot the whole way back. She wouldn't even let her father hold her, so he got to hang out and watch The Avengers: Age of Ultron and chill out the whole way back while I bounced the baby and worried that people were giving me stink-eye. As far as I know, nobody actually gave me stink-eye because I managed to keep her marginally entertained for 10 hours (and a larger toddler was having a wig-out a few rows back, which deflected attention) but still, I was in an utter panic that someone might be annoyed at us.
Now I have to make the same trip by myself, because my husband is staying in Germany till August, and I'm utterly panicking. The toddler and I each have our own seats, and I'll have a carseat to put her in and a backpack full of brand-new toys and books to dole out throughout the flight. I have toddler headphones and will be relaxing my "no screen time" rule for the flight. I am willing to watch "Where's The Monkey" for 10 hours if it keeps her quiet, but what if it doesn't? I worry she's going to want to run up and down the aisles, because that seems like the sort of thing she'd want to do.
Unfortunately, it's an early afternoon flight, which puts the baby's bedtime right when we land. x_x History tells me that she'll have a two-hour or so nap on the plane, but the other 7 hours are up to God.
Often people suggest offering to buy drinks for people in the nearby rows, which would be nice, but I'll be on an international flight and all the drinks are free anyway.
Help me, Mommyish commenters! You are my only hope. What is your best advice for traveling on a plane with a 23-month-old? I'll do anything.
Update: We leave in three days and she just started cutting a molar. Pray for me.