'Fixer Upper' Is Coming to an End, So RIP Shiplap
Chip and Joanna Gaines, hosts of Fixer Upper and purveyors of shiplap, have announced that America's favorite home renovation show is coming to an end. In a video posted on his Twitter account and shared on their blog, Chip and Joanna devastate pretty much everyone when they say this season of the show will be the last.
What a ride…BUT #season5IScoming #onelasthoorah [Watch the full video here: https://t.co/f5qIt4XUVO] pic.twitter.com/y9Dww6YSoW

— Chip Gaines (@chipgaines) September 26, 2017
Fixer Upper is undoubtedly one of HGTV's most popular shows. Viewers fell in love with Chip and Joanna and their quirky, wholesome personalities.
The fifth and final season premieres in November, so everyone will have time to say their goodbyes.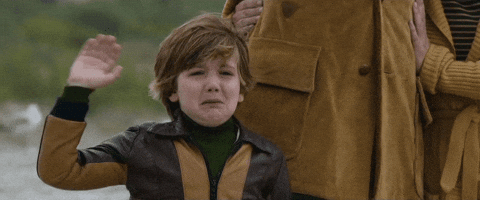 Image: Giphy
In their video and blog post, Chip and Joanna say that the end is bittersweet. But they're confident it's the right decision for their family.
"This has been an amazing adventure! We have poured our blood, sweat and tears into this show. We would be foolish to think we can go and go and fire on all cylinders and never stop to pause. Our family is healthy and our marriage has honestly never been stronger. This has nothing to do with a fraudulent skincare line or anything else you'll inevitably read. This is just us recognizing that we need to catch our breath for a moment. Our plan is to take this time to shore up and strengthen the spots that are weak, rest the places that are tired and give lots of love and attention to both our family and our businesses."
https://www.instagram.com/p/BZhTmhRnGIX/?hl=en&taken-by=joannagaines
Fans of the show are distraught, to say the least.
https://twitter.com/bianca_gheller/status/912709680698413056
Chip and Jojo, why you gotta leave us?
Not to be dramatic, but Chip and Joanna ending Fixer Upper is literally the worst news I've heard in a long time

— ally b (@allyburdick) September 26, 2017
In a world of endless bad news, Chip and Jojo and all that shiplap were a beacon of light.
https://twitter.com/morganel13/status/912706628612435968
We have so many feelings about the end. None of them good, tbh.
The couple insist that although the show is ending, it's not the end of their business. "We aren't done designing things to make your home your favorite place on earth. We aren't done working towards restoration in all things or helping out those who could use a hand. In fact, in all of these things, we are just getting started." Target announced it's partnership with the Gaines' earlier this month. In addition, Magnolia Market isn't going anywhere anytime soon. Still, we'll miss seeing Chip and Joanna on our TV's every week. Thank god for reruns, right?
Also read:
(Image: Facebook/Fixer Upper)