Stuff
First Daughter Sasha Obama Wait Tables at a Seafood Shack for her Summer Job
By
|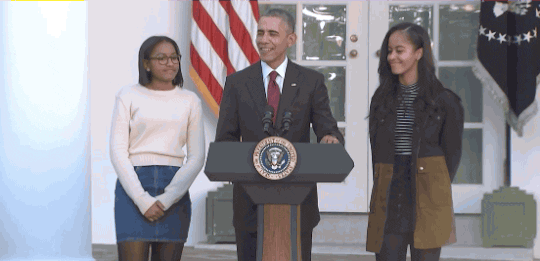 (Via Giphy)
Michelle Obama–also known as Beyonce's Beyonce–has often said that she and her husband work hard to keep their daughters' lives as normal as possible. Obviously "normal" is impossible, because their father is the president, their parents are very rich, they live in the White House, and they have to travel with a corps of Secret Service agents at all times. Still, the Obamas have been working hard for to achieve something as close to normal as possible for their daughters, and that even includes making 15-year-old Sasha Obama get a summer job.
Sasha Obama isn't even working at a ritzy company, fashionable nonprofit, or shadowing a Supreme Court justice for her summer job. She's actually busing tables and taking take-out orders for a seafood shack in Martha's Vineyard.
According to The Boston Herald, Sasha Obama has been working an early-morning shift at Nancy's Restaurant in Martha's Vineyard. She's been busing tables, working the cash register, and fulfilling orders in the restaurant's take-out window. She's been working a four-hour shift in the mornings from about 8 a.m. until noon.
Sasha Obama was reportedly referred to with her full name, Natasha, and her coworkers were not informed that the new busgirl was the president's daughter. Obviously the other coworkers are not fools and realized that for some reason there were a lot of extra people in the take-out window area while Natasha was working there, but then they realized "Natasha" is actually Sasha Obama.
"She's been working downstairs at takeout," a Nancy's server told the Boston Herald. "We were wondering why there were six people helping this girl, but then we found out who it was."
That has to have been a bit of a trip for those other employees.
It sounds like one of the other employees was a friend of Sasha's, because Sasha and a friend were both spotted leaving the restaurant one day while wearing Nancy's server uniforms and carrying a big tray of sodas out for Sasha's Secret Service officers.
Nancy's is a very popular place, and the president and first lady have patronized it in the past and are reportedly friends with the owner, which is how Sasha Obama got the job. Obviously Sasha Obama's job experience will not be like that of a normal high school kid. She doesn't have to work for the money, she's not worried about paying for college, and she is surrounded at all times by a protective security detail. But still, Sasha Obama had to go out and do a normal job like a normal kid, and that's pretty great. One hopes it will help keep her grounded and aware of exactly how different her life is from other people's, and help her respect and empathize with people whose experiences have been different from hers.
The president and first lady are scheduled to go to Martha's Vineyard on Saturday for a two-week vacation, at which point Sasha's restaurant employment will end and she'll join her family on vacation.