Pop Culture
Everyday Hero: Chrissy Teigen Fell Asleep at the Oscars Because All New Moms Are Exhausted
By
|
Chrissy Teigen continues to be one of the best people on Twitter. She's managed to turn her whole persona of "totally regular mom who just happens to hang out with ridiculously famous people" into a consistent brand, and it's a brand you'd want to be best friends with and have over to cook you dinner. (Especially if you like spicy food. Chrissy Teigen's cookbook is not lying about how spicy she likes her food.)
Teigen is the type of person who tells off IVF shamers and leaks breast milk all over a roller coaster, but one thing she's done that none of us have, is fall asleep in the middle of the Oscars.
Chrissy Teigen was caught on camera sleeping–or pretending to sleep–on John Legend's shoulder during the awards.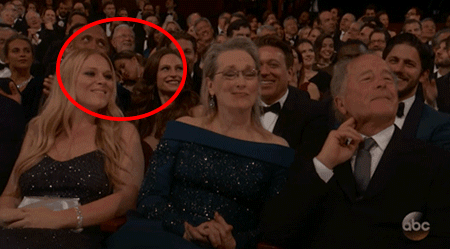 (via Giphy)
On the one hand, this could be a genuine case of falling asleep at an important event. Teigen has a seven-month-old baby, and I definitely fell asleep through The Force Awakens on my first night out when my kid was that age. Last week I saw a woman sound asleep on the soft blocks in the kids' play room at the library while her nine-month-old crawled around happily. Falling asleep at random moments is not unusual, especially if those things happen late at night.
Of course, there are those who might suggest that Teigen was faking it. It was pretty noisy in that room. If she was faking it, she must have known it'd be seen. Cameras at awards shows catch everything in the background, and Teigen knows that better than anybody.
She's probably more famous for that gif of her wincing in the background at an awards show than she is for having been on the cover of the Sports Illustrated Swimsuit Edition.
Also, it's worth noting that Chrissy Teigen was dozing off while alleged sexual assaulter Casey Affleck was accepting his award for Best Actor. If you're going to fall asleep–or pretend to fall asleep–during the Oscars, that's a good time to do it.