activities
Drunk Target Shopping Is the New Date Night Goals
By
|
Date nights are important. You and your partner need to carve out some "you" time and work at keeping the spark alive. But dinner or the movies can get a little stale, right? If you're looking to change it up a bit on date night, might we suggest you follow this guy's lead. Start with dinner, have some drinks, then take your partner drunk Target shopping. Trust us, this is what they wants.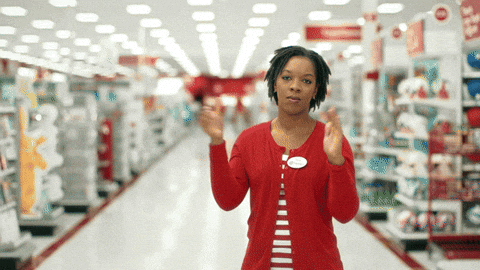 Image: Giphy
Tony and Alyssa Serafini have two kids, and they're both teachers. If they don't need a night to unwind, WHO DOES? So when it came time for date night, Tony asked Alyssa what she wanted to do. Drunk Target shopping sounded perfect.
Wife had a bunch of rum drinks tonight and we somehow ended up at Target pic.twitter.com/kM0OxcA7No

— Bottlerocket (@bottlerocket) July 26, 2017
Tony told Scarymommy that they had a gift card to a local restaurant called Gibbet Hill Grill, where they have a drink called "10 Years Run Punch". It even comes in it's own bottle! Alyssa got two of them, and then started waxing poetic about Target shopping. So, like a good husband, he made her buzzed dreams come true.
Getting into that pre-game action with visions of red carts in her head.
Those hands held high in inebriated jubilation! We're sure Tony was happy … on the inside.
The look on her face means two things: it was a good date night, and she found a bunch of shit at Target that she did not need. We are all too familiar with that face.
Date night goals are real, and this is one of the best ones we've seen. And you know what? You don't even need a partner to take you on this date night! Call an Uber, have some cocktails, and take yourself to the mothership for some self-care. Just do it. You deserve it.
Also read:
(Image: Twitter/@bottlerocket)