Girl Books Ultimate Disneyland Paris Holiday After Guessing Dad's PayPal Password
The heart wants what it wants, right? A 9-year old girl in the UK guessed her dad's PayPal password and booked herself a dream Disneyland Paris holiday, to the tune of about $1320US. That's quite the bill to wake up to! Susan, the little girl, was playing around on her dad's phone when the family was asleep when she treated herself. She's mw kinda kid.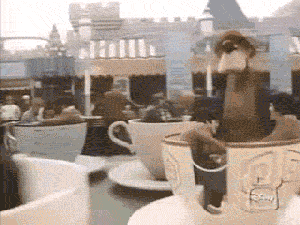 Image: Giphy
Susan's Disneyland Paris holiday included airfare, a hotel gift card, a VIP trip the the Eiffel Tower on the Disneyland Express train, and park tickets. Susan was going to live it UP.
The girl got a hold of her dad's phone while he was sleeping. His device wasn't password protected (BIG MISTAKE), so she just went to work. Susan claims she doesn't know how she booked the trip. And dad Ian didn't realize what she'd done until days later, when the money was deducted by PayPal. Oops.
Susan said, "I don't know how I did it. I just like messing about with Dad's phone. I don't know where Paris is or what the Eiffel Tower is."
The park reservations and hotel and flight bookings were made through two different websites. Susan's mom Tracey told the Mirror UK that the companies initially refused to refund the money, because no fraud was detected. After investigating Ian's phone history, they were able to figure out what happened, and PayPal agreed to refund the money, calling it "friendly fraud".
Says Tracey, "We were completely open and honest to the bank and Paypal about what happened. We never went on the holiday.Susan really knows her way around her tablet but that is completely internet safe so she can't do things like this. Ian's phone isn't but we will be keeping it out of her way from now on."
We're kind of sad that Susan didn't get to go on her dream holiday, but maybe next time she treats herself, she'll get mom and dad's permission first. And parents, remember: password protect your phone!
Also read:
Woman Sues Phone Psychic for Saying She'd Be Dead in Six Months
10 Things You Should Never Say During a Toddler Tantrum
Millie Bobby Brown Is 13 Years Old, Please Stop Calling Her 'Sexy'
(Image: Facebook / Times of News)