mom fun
Stop Panicking Parents I Have Your Disney Frozen Merchandise Right Here!
By
|
All you parents need to calm the freak down – worrying that your precious little Elsa-Frozen snowflakes won't have a Frozen toy in their Easter basket. First of all, since when did Easter become Christmas or a birthday? Go buy them a damn chocolate bunny and tell them it is special limited edition magical Frozen bunny that belonged to those creepyass troll rock things that NO ONE wants to discuss. How can every parent glom over the fact that these troll people look like dried up feces rocks and sang a bad song and were overall lame despite their magical powers?
Your kid doesn't get a Frozen doll. Too bad boo hoo, now they will grow up and hate you. That's what you get parents, that is what you get! But I have a solution for you, oh boy do I ever, because I'm an amazingly smart person and I will share my wisdom with you so your dumb kid will stop whining about their dumb lack of Disney branded bullshit you will end up donating by next Easter anyway.
1: A Magical Frozen Ice Castle! 
Go get all your blue and light blue and white Legos – pro tip: if you are missing any they are either under your washing machine or at the bottom of your kid's toy bin. Tell them these are magical blue FROZEN Legos and they need to build Elsa and that stupid moose a house.

2: An Elsa Doll!
Here is her face, just have your dumb kid color this pic and print it out and cut it out and use some scotch tape to tape it on the face of a Barbie. Voila! They even have the same hair. You can make a fancy Elsa snow dress out of tinfoil and some blue twisty ties from your bread bag. FANCY!
3: An Olaf Plush
You may see a nail-polish removal device, I see a world of Olaf inspired possibility! Go get some goggly eyes, you know you want goggly eyes, and go to town. If you really love your kids, you can even attach cotton balls all over your body and make them have a truly magical Easter morning to remember:

4: A Sven Figure
Get one of your kid's plastic horses and hot glue some pretzels on its skull to make a Sven. Parents are ALL READY doing this but with food!
If your kid is young enough I can promise you they don't know the damn difference between a moosie and a horsie, so just add some damn pretzels to its head because everyone knows that pretzels=antlers. This is pretty much the first rule of parenting.
5: An Anna Doll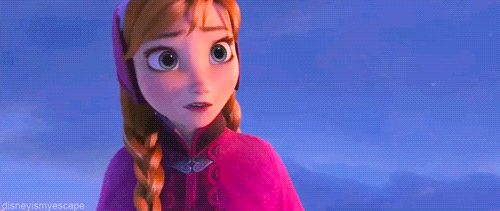 HAHA you don't even have to do this shit because everyone knows that no kid wants Anna. Every mom wants her kid to want Anna because of her sweet disposition and the fact she doesn't wear a slutastic Dancing With The Stars Bob Mackie-esque gown like Elsa, but no kid wants her. She is no one's favorite, and if she is just take a chemical hair straightener to your Merida doll and add some google eyes and a piece of red felt to make a cape and VOILA, Anna.
There you go. I hope you are happy now. Not only did I save your Easter but I made it so your kid won't grow up and require a gazillion dollars in therapy because they weren't able to have Disney merchandise for the holiday. Now you can let it go…
(Image: Tumblr)