mom fun
Daft Punk Deserves All The Grammys For Making All My Old Lady Things Cool
By
|
I don't know how it goes in your house, but in my house we are all big Daft Punk fans. Not only did they make a record that is enjoyable for kids and their parents alike, but they made everything I loved growing up cool again so my kids can think I'm not as lame as a I truly am.
First of all , Daft Punk are robots. ROBOTS.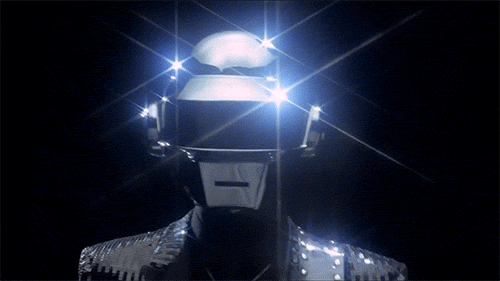 I have a house full of kids obsessed with robots. The whole stage persona of Daft Punk is amazingly cool.
Then they had Niles Rodgers play on their record. Growing up, I was a huge Bowie Fan. I begged Crushable to write a post when it was Bowie's birthday and they smugly told me NO ONE KNOWS WHO BOWIE IS EVE YOU ARE OLD. For the rest of you old people, not only is Niles famous for being in one of the best bands ever, Chic, of such amazing songs like Le Freak and Everybody Dance , Niles also wrote and produced the Diana Ross jams I'm Coming Out and Upside Down. And we all need to take a moment to appreciate that little fact:
[youtube_iframe id="F-mjl63e0ms"]
UGH, seriously, that guitar playing. That song.
Not only did Niles play on such songs as the above and numerous, numerous other hits, he also produced Bowie's Let's Dance which the rest of you old people may be slightly familiar with.
OK, so not only are Daft Punk robots, not only did they have one of the best music producers of all time play on Random Access Memories, but they also had Paul Williams help on the album, including helping write the lyrics to the Grammy awarded song of the year, Get Lucky. For those of you not old enough to remember Williams (get off my lawn) he is sorta famous for composing this as well as many other songs:
[youtube_iframe id="jSFLZ-MzIhM"]
And then Daft Punk took the stage last night to perform with Stevie Wonder:
[brightcove_vid playerid="9″ flashvars="videoId=3110578651001&linkBaseURL=http%3A%2F%2Fwww.hollywoodreporter.com%2Fnews%2Fdaft-punk-stevie-wonder-pharrell-674151&playerID=1257205077001&playerKey=AQ~~,AAAAAC3bNtw~,c0hgCOyLwy4Lde_FJ6Ombu5W_uQUkX83&domain=embed&dynamicStreaming=true"]
And I could bloviate about the genius that is Mr. Stevie Wonder but if you don't agree with me, than I just feel sorry for you.
I'm always thrilled when I find something I can love that I can share with my kids. especially something that marries all the old lady stuff I loved from my own childhood with something that the kids are getting hip with today. Daft Punk just proves I'm not as lame as I think I am.
(Images: getty)